"Listen, how about we make this easy, you take my gun and shoot yourself, I've got an Algebra test to study for."
Kristoff Dmitri Makarov-Vulpes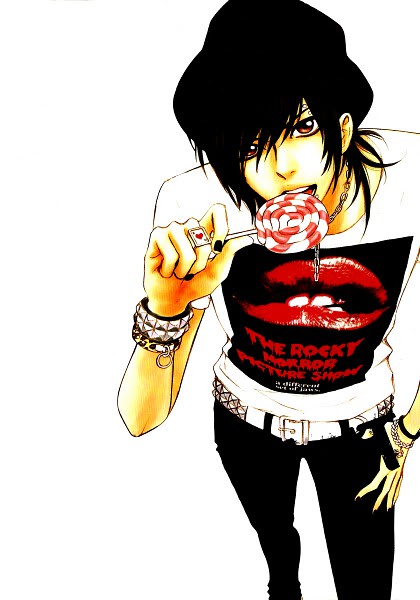 «««IDENTITY»»»
Full Name:
Kristoff Dmitri Makarov-Vulpes
Nickname(s):
Kris
Codename:
Jolt
Alias(es):
N/A
Age:
17
Race:
Meta Human
Alignment:
Chaotic Good
«««PHYSICAL DESCRIPTION»»»
Hair Color:
Black
Eye Color:
Amber
Gender:
Male
Height:
6' 5"
Weight:
150 lbs
Other Traits:
N/A
«««SKILL SET»»»
Powers
Energy Manipulation: Energy Vampire's Bestfriend! It comes with 2 perks!
A)Energy Absorption: Kristoff, being an Energy Vampire, has the ability to absorb most types of energy as long as they consist in some sort of wave, current, or beam.
B)Healing Factor: Using his Energy Absorption power, he can heal himself from certain injuries as long at they aren't extremely grave, such as minor gunshot wounds, broken bones. The amount of energy needed to heal changes depending on the size of the wound. Also, he heals at a moderately fast rate, small cuts healing in 30 seconds while gashes and other large wounds heal in 15 minutes, if he chose to heal completely.
Red Lightning: Kris is able to manipulate the Energy in his body into a weapon, he is able to create an aura of Red Lightning around himself that gives him a power boost, increasing his speed and strength, while adding an electric side effect to any of his hand to hand attacks. He can also project lightning bolts for a ranged attack. The Red Lightning Aura only lasts about thirty minutes before Kris has to recharge, which can vary from 5 minutes to an hour, depending on what type of energy he's absorbing to recharge.
A)Power Boost: Kris gets the ability to do quick dashes, almost seeming to teleport, within a 10 foot radius, he also gains massive strength boosts to the point where he can throw punches with 1 ton of force.
B)Lightning Bolt: Kris gets the ability to throw lightning bolts 50,000 Volts.
Skills
- Kris has his Motorcycle License, Driver's License, and his CPR and First Aid Certification. He's a pretty good skateboarder.He's also pretty good at shooting guns, he may not be a crack shot, he has been known to hit his target.
Exceptional Skills
-Hand to Hand: Growing up on the streets Kris has become a great hand to hand fighter, almost unparalleled among the Thugs of Jump.
-Agility: When in a fight he can't win, Kris can run, jump, and climb his way to safety, a near master parkour runner.
-Stealth: Kris can hide and control his breathing to not give away his position, he can also move silently if he moves slow enough.
Physical Weaknesses
-Ice and Cold: Being the absence of heat and energy, he has to use more energy to keep himself healed and in fighting condition, it can make him weak or even kill him due to a lack of energy.
Mental Weaknesses
-Stubborn
-Childish
Equipment
-When Kris is Zero, he wears a skull ski mask, a black beanie, leather jacket, black baggy jeans, and steel toe boots.
-Kris has a switch blade, brass knuckles, first aid kit, and an old pistol he found at a crime scene, rarely used and low on bullets, mostly for intimidation.
«««CEREBRAL PROFILE»»»
Personality
-Kris is your typical 17 year old kid, loves his adoptive mother, goes to school, and at night he is a remorseless hero who will do ANYTHING to stop the bad guy, even if that means they go to a morgue instead of jail.
Likes
-Video games, working out, working at the comic shop, sleeping in class, and listening to post-hardcore and pop punk.
Dislikes
-People with no respect for the law, algebra, most rap, all country, and working doubles.
Habits/Hobbies
-He enjoys hanging out with friends, skate boarding, and driving his motorcycle.
«««PERSONAL BACKGROUND»»»
Family Members:
Birth Mother: Veronika Makarov (Deceased) Birth Father: Unknown (Deceased) Adoptive Mother: Nina Vulpes
Place of Origin:
Born: Vladivostok, Russia Grew up: Gotham City
History
-Kristoff Makarov was born to a family in Vladivostok, Russia. His father was killed  by a beggar when he was real young, at least that's the official story, there are rumors that Kris himself killed his father when he discovered his powers. He and his mother moved to Gotham in search for a better life, and they had it until Kris was 7. His mother was killed by one of the Joker's attacks on Gotham. He lived on his own, traveling from Gotham to Metropolis to Star City and eventually to Jump. It was eat or be eaten, so Kris learned how to fight, control his powers, and stay alive in the under belly of these cities. It was in Jump, when he was 13, he found the kind Nina Vulpes who gave him shelter, food, and eventually adopted him. Kris took on her last name as courtesy.
Kris also had a secret, as he further honed his powers, he became a brutal super hero known as Jolt. Described as an entity of electricity in the papers, he isn't known to be above killing. Those who survive describe Jolt as a man with electricity flying off of him and a skull where his face should be, Death Incarnate. Kris would just say he's doing his civic duty.