"I'm bored can we kill somebody or something?"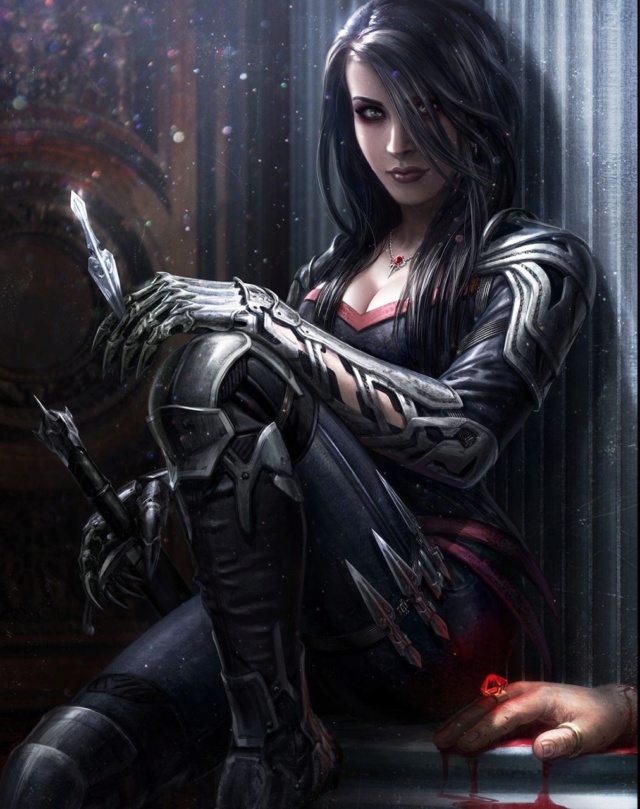 «««IDENTITY»»»
Codename:
Evangeline Ambrosius
Nickname(s):
Evie
Age:
16
Race:
Human
Alignment:
Neutral
Is this a canon?:
Nahhhhhhh
«««PHYSICAL DESCRIPTION»»»
Hair Color:
Black
Eye Color:
grey
Gender:
female
Height:
5'2"
Weight:
125
Other Traits:
Very skinny, but has muscles. Thin boned:P
«««SKILL SET»»»
Main Power Origins:
She doesn't have any powers.
Skills
Photographic memory
Can read at a high level with accuracy.
Parkour
Gymnastics
Ballet
Acrobats
Agility that is greater than that of a gold medalist- She can coordinate her body with balance, dexterity and flexibility easily.
Expert Martial Arts-jiu jitsu, aikido, boxing, judo, karate, savate, ninjutsu and other various styles of kunfu.
Abilities
-Expert tactician, hand-to-hand combatant
-Enhanced Immune System (tons of injections at the school)
-Expert Marksman and mastery of other various weapons.
-Super smart, very high IQ scoring a 166 on the IQ test taken at her Academy at 14 years old.
Physical Weaknesses
She has a large scar from a burn on her right lower arm from the bottom of her wrist to her elbow, when touched it hurts alot and feels as though she's being burned again. (She usually has this covered by something.)
Mental Weaknesses
Evie is afraid of fire although she won't admit it. Assassins are not supposed to have fears, and when she gets face to face with a flame she gets nervous and mistakes are possible.
Equipment
In her belt-
-Grappling hook
-knock out gas
-taser
-small explosives
-tear gas pellets
-radio transmitter
On her hip and hip
-3 throwing knives
-Small dagger 3-4'
In her boot-
A larger dagger 6-7'
A small handgun, loaded.
3 extra throwing knives
«««CEREBRAL PROFILE»»»
Personality
Evie has a hard shell to crack, but once someone gets to know her they love her. She normally comes off an ***hole, and would rather be throwing knives at a tree than socializing. Evie has a hard time showing her emotions as she was trained to not show her enemy any feelings, normally she has a blank stare on her face (resting B*tch face maybe?) lol.
Evie really likes flowers, it's one of those things that she keeps personal. She enjoys gifts, and cutesy gifts at that, teddy bears, flowers, candy, etc. Evie enjoys moving more than sitting, if people are sitting around she's most likely climbing a tree or throwing a knife at people. Evie loves to read, give her a book and she'll make time to finish it. Although, she can read a 400 page book in less than an hour. Evie loves nature, she struggles with people who litter, or destruct nature in any way that results in death of the nature, she gets a bit mad. Evie loves attention she gets from doing fun things like flips, and knife throwing, she enjoys the fascination people get from her unique skills.
Evie hates when people think that she can't do something. She's too prideful and stubborn and will take on a dare instantly. She struggles when people think she's too petite or delicate to so something, and then she shows off. Evie hates fast food, she eats very organically and if someone offered her a McDonalds cheese burger she'd most likely be very disgusted.
«««PERSONAL BACKGROUND»»»
Family Members:
Grand Father: Merlin Ambrosius, Brother: Elliot, Cousin: Cain
Place of Origin:
Jump City
History
Evangeline grew up with her older brother and Grandfather in Jump City. Grand Father was always concerned about Evie's safety because she was 'non-magic'.  GrandFather was always super protective of Evie, and would rarely let her see or engage with Elliot and him during magic sessions.Grand Father deemed Evie too small, fragile and delicate to be around magic. As the sessions became more rigorous, Evie was locked in her room more and more. When Evie was about to turn 8 years old, she walked into the library to find her book that she thought was there. Grand Father didn't notice her come into the room, neither did Elliot. Elliot summoned a fireball and lost control, Evie saw last second using her arm to defend herself. Grand Father tried his hardest to heal her arm, but the scar and the pain when touched still remains. Her fear of fire is resulted from this.
Grand Father was much too concerned with Evie's safety, that he sent her away to a boarding school, three hours outside of Jump City. What Grand Father didn't realize is the boarding school trained assassin's underground, starting at age 7. Evie, at age 8 was inducted into the program for her small frame, and ability to be agile. At the Academy of Buckwell, Evie trained after her school let her out, as she grew older she began skipping school to master her abilities.
After mastering the martial arts, and almost every weapon the facility provided, Evie struggled to learn more at 14 she gained so much knowledge and wanted to know more. Unfortunately, someone found out about the school, and while Evie was training with a few other elite Assassins, the bulding above them exploded.
Evie and the few other Buckwell Assassins were able to make it out of the building through secret underground tunnels.
Now.
Evie is making her way back to Jump City. She was sent to kill a government official working within the city, but the information is classified. She works in a secret facility hours away from Jump City,but she mostly does her own thing when assignments are sent out. Evie struggled coming back knowing about her brother and grandfather. She didn't want them to try and tell her what she was doing was wrong, she didn't want them to still think of her as the fragile, delicate human she was at 7 years old. She was an assassin now, and her past was in the past.... or was it...?