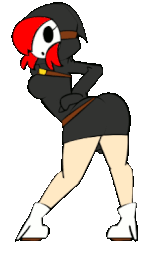 "So get ready! I'll be there in five minutes!"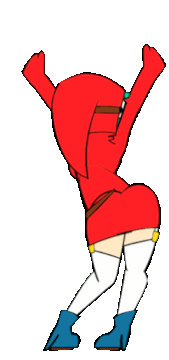 Seras Arcadia
Dead Master
«««IDENTITY»»»
Codename:
Dead Master
Nickname(s):
She is the entity formerly known as Kharma Kharmeleon. Or rather, has assumed and replaced his mantle.
Age:
Seras is only 16 but as a Lord of Order is timeless.
Race:
Lord of Order
Alignment:
Lawful Neutral
Is this a canon?:
"Nope~!" «««PHYSICAL DESCRIPTION»»»
Hair Color:
Typically green. In one form she takes as a Lord of Order, black.
Eye Color:
Seras has heterochromia; and thus her right eye is red and her left eye is gold. As a Lord of Order, golden in female form, red eyes in male form.
Gender:
Is female, but can be male when wanted.
Height:
5'10
Weight:
"That's a very rude question."
Other Traits:
Seras is very flamboyant, and is known for her eccentric clothing choices.
«««SKILL SET»»»
Main Power Origins:
Magic
Powers
"I'm a Lord of Order."
Seras has assumed the mantle of Kharma Kharmeleon. She is for all intents and purposes part of the fabric of the universe now. She is undying. Her physical form is much much weaker and capable of being destroyed. But she will eventually return, at 00:00, 06:00, 12:00, or 18:00 Pacific Daylight Time.
Mind Reader-
In her physical form, she has pseudo-omniscience; by interacting with another person, she can learn things about them such as their names and what they are like. This also makes her a natural instrument of undoing Lords of Chaos, and as such her true powers are able to be used against them and their agents*.
Animapotence-
Put plain and simply, Seras has the ability to controls souls, and by proxy, life. She can heal. She can bring the dead back to life. She can make zombies. But she still has to have permission to do these things (which we'll address in a minute). Her body is more fragile than most, but as long as she can get sufficient soul energy, she can restore the damage done to her body.
Thaumaturgy-
As a former sorceress, Seras has the ability to do many magical things. She can manipulate the elements, conjure items and objects into existence, release massive amounts of energy in the form of attacks or brilliant displays of light, levitate and fly, etc. The extent to which she can do these things are also governed by whether or not they benefit Order. For the most part, this means she can do small impressive things when not in the presence of an agent or Lord of Chaos. But in the presence of those things, she is infinitely more powerful.
* An agent of Chaos is one that is actively supported by and/or works for a Lord of Chaos.
Skills
Exceptional sorceress
Exceptional chef
Exceptional combatant
Abilities
Seras is very acrobatic, and flexible. She keeps balance very well and can do flips from a standstill.
Physical Weaknesses
As a Lord of Order, Seras is subject to Order's demands. Should she fail to satisfy Order, she could very well be obliterated. Naturally these things have a scale, and she can be self-serving on a human level. This is why she is permitted to own things such as a magical cafe and have a normal day to day life. But if she acts overtly selfish and fails to carry out her duties as a Lord of Order, she will likely be destroyed. She cannot directly interfere in the lives of mortals unless explicitly asked to do so. She can't stop the city burning down around her but she can enlist heroes to do so, for example.
Mental Weaknesses
She's very fashion-sensitive. When someone ruins her clothes, she can get very upset and angry, even though she can very easily fix them.
Equipment
Cain possesses the Staff of Hermes. It's grossly caricatured in modern media. It is a 6 foot tall celestial bronze staff that can easily collapse to be compartmentalized and carried into spaces. It has the carvings of two serpents entwining it from top to bottom. Where the heads meet, there are celestial bronze wings. These wings are bladed, and can fold completely inward to make it a blunt staff, fold both wings to one side to create a scythe, or have both wings fold partially out to make an axe. This staff is weightless to Seras, and is not indestructible, but is magic. Written on one of the serpents is the following phrase:
Et avem nomen Mercurio est mihi
. On the other serpent,
Comedere mihi in me mansuetas alas
.
«««CEREBRAL PROFILE»»»
Personality
Cain is a bit of an odd one. As a human, she was raised by her father who for all intents and purposes wanted a boy to inherit his legacy. But he got Cain. This didn't make him love her less but the family tradition was that the male would take on all the secrets and so he raised her a little more rough than most. This made her a little tomboyish, but from the very beginning, she didn't really like boys the same way she liked most girls. When she had developed into her teens and was tricked into becoming a lich, she embraced her sexuality and cast off her boyish traits.
«««PERSONAL BACKGROUND»»»
Family Members:
None to speak of. Is directly related to Merlin.
Place of Origin:
London
History
As aforementioned, Cain was raised by a father who very much wanted for her to be a boy. He carried all the magical secrets of their family, who share a direct line of blood with Merlin, and was tasked with passing it on down the line. Cain's mother, however, died soon after childbirth. He taught her the ways of their family, though it wasn't the way tradition intended, and she became a very well versed sorceress by the age of sixteen. On her seventeenth birthday, her father was murdered by an old friend of his, and he tricked Cain into thinking that his murderer went into a tomb looking for ancient rites. This wasn't far from the truth; Rael was there looking for ancient rites, but he knew there were traps.
Cain fell for one of these traps and became a lich inadvertently. Rael accessed the antechamber holding the secrets he was looking for, thinking Cain dead, but was then murdered as he had his life force ripped from his body. By taking his soul, Cain released the soul of another that Rael had conned over long before. Isabel Harkness.
Later in her life, Cain became a Lord of Order by replacing Kharma Kharmeleon.
How convenint, that she "just became" a lord of order.
You missed an 'e'. And the DLC explaining why is available for $59.99.