"She is mine body mind and soul"-wolf "YOU DO NOT CONTROL ME YOU ARE NOTHING BUT A ANIMAL THAT NEEDS TO BE CAGED"-little red
Marry ann lenore
when wolf has control: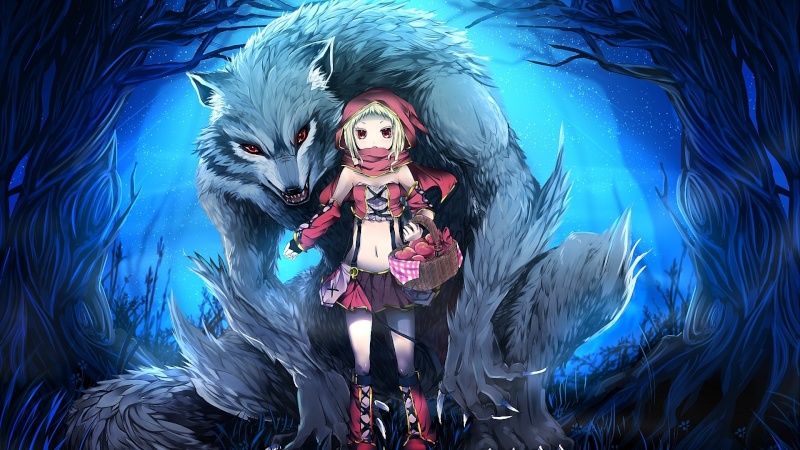 when little red has control or when she needs to be a civilan:
wolfs human fourm that only can be seen when Marry is mostly in control: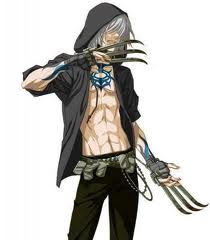 ===IDENTITY===
Full Name:
Marry ann lenore
Nickname(s):
little red, mimi, red
Codename:
little red ridding hood
Alias(es):
n/a
Age:
15
Classification:
insane shadow mage
Affiliation:
villian
===PHYSICAL DESCRIPTION===
Hair Color:[/bgolden ]blonde
[b]Eye Color:
shadowy gray when she is in control/ Crimsion Red when wolf is in control
Height:
5ft
Weight:
115lb
Other Traits:
When in villan fourm has scyth strapped to her back and a belt that has explosives that look like apples on it
===POWERS===

Powers:
big bad wolf: The big bad wolf is semi solid manefstion of Marry's imagenation and shadow magic this gives him a body of his own and allows him to become real and visable to the out side world that comes to life through her powers but still being part of marry's mind he can still control marry while being out of her mind. Depending on how much in control he is how he appears when marry is in control he does not exist in the outside world. When control slips he appears as a human with claw blades when he can get away with them showing. When he is in half way control he is a shadowy wolf and marry will start wearing her little red ridding hood coustom and carry her scyth and explosive apples when she can she does not where them till then or wolf has complete control. when wolf has complete control he will be come a werewolf. He comands Marry at all time till control is broken or he gives control back to marry who has no memory of what she has done under wolf's influnce. He comes out out under stress physical harm to marry or when marry loses control of anger he has the hearing smell and aggresson of a wolf.His claw blades are gone and are replaced with real claws that can cut through steel he can lift up a car with ease but can not lift a desile he could stop it in it's tracks after being pushed back several feet. He also has the refeaxs of a wolf as well. Wolf can not die do to not truely being real how ever he can be temporarly dispeled if he where to resive a fatal wound time verys but most time it would take a month. While wolf is made of magic it his attacks are purely physical though the wounds inflicted by him take longer to heal from his magic origin. Wolf can also store magic up from marry allowing him to have purely physical body however loses phasing ability the extange rate is one week equals an hour max is two hours.
scyth master:she is a master of combat with a scyth she can swing it up to 90mph she was trained by her father after her shadow magic forumed into a scyth as a weapon meaing she will be most natural fighting with a scythe
explosives expert:Marry is a expert in making and using explosives up to taking down a ten story skyscraper due to learning from her mother teaching her the theroy and what to use wolf uses this knowlage to his own gain
enhanced speed: Marry has enhanced speed about four times faster than the average human this helps in evasion and the reason why she can swing her scyth so fast
Skills:
cheerleader:Marry has grow up doing cheerleading since she was six at the local ymca till she was sent to arkham at ten.
gymnist:Marry has done gymnastics since she was six and has won several championships till she was sent to arkham at age ten.
forging:can forge a scyth blade should her scyth get broken
Weaknesses:
they cannot stay in control of eachother:When someone does something to anger or cause extrem stress on Marry wolf will come out and if someone can get marry to fight wolfs control marry will lock wolf back with in her mind and will immedaitly give up if she is causing havoc or doing evil.
marry is good:Marry is a law abiding citiezen and does not want to be a villian but do to wolf is
is human:Marry is human and has all weakness of a human
being knocked-out: if marry is knocked out it will stop wolf and give marry control again if wolf is in control
poor hand to hand combat:Marry is a poor fighter with out her scyth and explosives even with wolf in control
wolf is bound to marry: Wolf can not leave marry side for longer than two hours and to do so he has to store up on magic for several days
Equipment:
scyth: Marry carrys a basic black scyth with spear tipped points if the scyth blade where to break
explosives belt: Belt that holds apples that when the stem is pulled become timed explosives
===PSYCHOLOGICAL PROFILE===

Personality:
Marry is a kind sweet girl that is a bit shy around others she will tend to stay away from large crowds when she can. When she is under the influince of wolf she becomes mean when losing control of wolf. who loves destruction she will draw mirth from the pain of other when he is in control they will show no mercy around others when wolf is in control. Marry's greatest fear is that she will hurt one of her freinds when wolf has gained control and eventually lose herself to wolf and become a puppet to him. She loves the color red that is common to both wolf and Marry. Wolf dislikes to be locked within marry's mind and marry hates wolf getting out and taking control. Marry fear the woods and large forest due to it leading to the creation of wolf
Strengths:
Marry is confedent in most things besides speaking to others shekind when in control she is kind, wolf is a viscouse fighter almost unstoppable unless they hurt Marry they are quite cunning and are exellent stratigist
Interests/Habits:
reading, medetation, cheerleading, gymnastics, trying to find a way to make wolf good
===PERSONAL BACKGROUND===

Family Members:
mark trueman lenore(dead), may shyan lenore(dead), minnie lenore(grandmother dead), lorea lefay(foster parent), zane lefay(foster parnet
Place of Origin:
jump city
Current City:
jump city
History:
Marry was born to two loving parnets mark and may lenore her father was a shadow mage thanks to his father and his gift was pasted down to Marry.Her mother was an explosives expert and taught her daughter how to do it in theroy. She began to learn the basics of shadow magic at the age of 5 her father taught her how to use the scythe when her shadow magic made a scythe for a weapon. when she was ten the family was staying at her grandmothers cottage in the woods. One night they where attacked by of escaped outlaws her father protected them with his magic but got killed by the outlaws by a knife that got through his guard. Her mom and grandmother ran with her to a cave in the woods while she was in shock. three days later they where found by the group of outlaws who then killed her mother and and grandmother. When they where about to kill her the girls powers lachted on to the most deadly creature in her shocked mind which happened to be a werewolf and thus wolf was created and then killed the group. She spent the next three months wondering the large woods with wolf protecting her . When she was found she was sent to arkham due to wolf being a construct of her power and it nearly killing the people that found her. As time went by she was released and sent through foster care when she was adopted by zane and lorea lefay freinds of her family who taught her how to forge. When Marry turned twelve wolf snapped due to being thought only to be a consturct of Marry's mind to keep her safe in the woods by the doctors of arkham and convinced her that he was no longer needed. Which was ture at first but he had become something more due to her powers keeping him constently alive even in her mind her powers giving him life of his own. At age 14 was when he became destructive and evil taking over Marry any chance he could so that he would never be caged in her mind again. since then she has been in and out of arkham for help trying to get wolf back to being good.
Sample RP
Marry sat on the slab of metal and mattress that was her bed in arkham. Her eyes close as she breathed slowly in and out meditaiting to keep wolf at bay he was angry at her she didn't know why but he had gone evil and had took her over a couple times sighing feeling him going back to sleep she opened her eyes and looked at her room that was lit up by the light of a full moon. The room was spartan like there was only the bed a table to eat at or study two chairs one for her therapist that came to see her every week to descuss her problem with wolf a toilet next to that was a sink with a mirrior above it, a coffe cup for water and another cup for her hairbrush toothbrush and toothpaste. Sighing again she got up and turned on the cold water and splashed water on her face when she heard a dark laugh it was his laugh turning and looking all around her trying to spot wolf but didn't see him till she looked back into the mirrior. He was in his human fourm letting a gruesome smile grace his face as he said,"looking for me little red." she glared at wolf with tearfull eyes and said, "Why wolf why are you cuasing me to do crule and evil things people?" Once again laughing wolf said, "Why red the answer is simple they told you to lock me away that I was nothing that I was no longer needed and you listened to them you caged me within you mind and left me there I begged you to let me out but you ignored me and now your all going to pay you most of all little red ridding hood." Marry took a couple steps back as wolf walked out of the mirrior becoming his full wolf forum as she cluched her head as she sunk to her knees her eyes squeezed shut fighting him trying to keep him from having control. When her eyes opened her eyes they where now a crimsion red. standing up Marry looked to wolf with a smile and said, "So my big bad wolf how are we going to leave this cell?" Wolf smiled before saying, "like this red" he then walked through the metal door for several minutes after that there where screams and a couple gun shots and before everything was silence once more. Marry then hear the sound of the door being unlocked and wolf opening the door.
after retriving reds costume they quickly made their way to the armory wolf walked through the door after making sure no one was in the room and retrived reds scyth and belt. Walking to the door he had red unlock the door. Marry smirked as she strapped her apple belt back on she heard a shout to freeze decieding to have some fun she quickly removed a apple and tossed it behind her as she quickly ducked before several tranqulizer darts could hit her after hearing the bomb go off she turned around as serval guards lay knocked out. marry quickly made her way down stairs where wolf stood by the entrance out of arkham wide open nodding to him they quickly made their exit wanting to get as far away from arkham befor daybreak.