((This is a story i decided to try to write or am trying to write and post up in different places. I decided to put it up here for fun, but due to it not being meant just for ttrpg it will likely have little to no coding for color and other such things. On top of this note that this story may touch on mature and sensitive topics as it goes on, maturity warnings will be put in a needed and of course things will cut to black if needed if a scene seems to go too far for this given site it will be removed and a note will be left to say that it has been and if possible a 'family friendly' explanation of what happened will be left in its place. I just wanted to post this note up here first so you guys know whats going on. Anyways here is the first part of the story, chapter 1 is currently in the works and i hope to have a picture for each chapter so some chapters may be delayed for pictures to be finished.))
Prologue
'The negative emotions were the easiest to figure out though they were the first ones I came to remember having, fear, confusion, paranoia, anger, loneliness. Slowly i figured out what each one was by slowly singling them out and looking into them and compared them to things I witnessed with others. Fear was quite easy to single out and spot it was the first and strongest I and the others felt.' '
I remember all the screaming, your heart beating out of your chest hands shaking and just wanting what the fear was causing to go away far away. And given we were all scared of each other and ourselves it made it easy to get away… until we realized we couldn't run from ourselves. Next was confusion when we noticed we were all running, why were we so scared, why were we there, why were we like the way we were? Why did we not remember anything?'
'Paranoia and anger came next quickly and suddenly it was the most deadly as well, I remember seeing my flames coming out, others changing as well as we all started to feel the need to attack, the others had to know what was going on, they were reading for a fight after all, they were going to attack us, the anger of being stuck in the situation, the confusion got too strong the paranoia over running every sense of emotion we all had.'
'I was the lucky one and lived but was unlucky for the same fact…. I had killed my sisters or i believe they were my sisters, what else do you call others who look almost identically to you. I have no better explanation for it at the moment so sisters it will be… either way I ended their lives and then the final emotion flooded in as the days passed…. Loneliness. I still regret what I did but knowing what i do now I know that there was sadly no way around it due to how they set everything up.'
'The emotions of positivity have been the hardest for me to figure out and learn due to how rare it has been for me to feel them, though I believe it is not due to that alone, I think the person who i was had just been such an unhappy person it's hindering me from being able to allow in positivity. I can so easily allow in negative emotions and feel more connected with them over anything else. Maybe I'll ask the winners of the other groups what it's like for them if I ever come across them again.'
'I do not know much of my past but based on the notes I found I do know that I was labeled 'Illuminance Flux' while having a name underneath the category of subject 'Janet' I believe this was my first name from before the event that put me in that first situation, while my label I believe may link to my abilities the flames and beams i hold they feel more like shadows and light given the cold that attaches to the flames and the heat to my beams. Though what is still a mystery is how they both have life gifting and life taking properties.'
"Are yah just gonna keep standing there all damn day staring mindlessly or are yah gonna come at me and fight already child?" a large over sized muscular man boasted out towards the small in stature girl with an athletic build. The man wore a spandex esc outfit with a crowd of people watching him from afar. The girl who stood before him wore standard street clothes though the whites of her eyes were black and the pupil and iris were both white and nearly glowing her hair white and almost flowed like fire from her head. "
You bother me…" She said her voice sounding distorted and almost off it vibrating in a way in tone. She squatted down as the man turned red in the face "Yah dare talk to me like that you scrawny brat!?" He roared out in anger as she looked to the ground a black flame growing in her hand. She touched the cold ground and black flames shout outward in lines in various directions forming a circle and then more lines shot out from that circle covering a decent surface area. The man stumbled back startled by this but looked around and cleared his throat. "Yah don't scare me little girl!"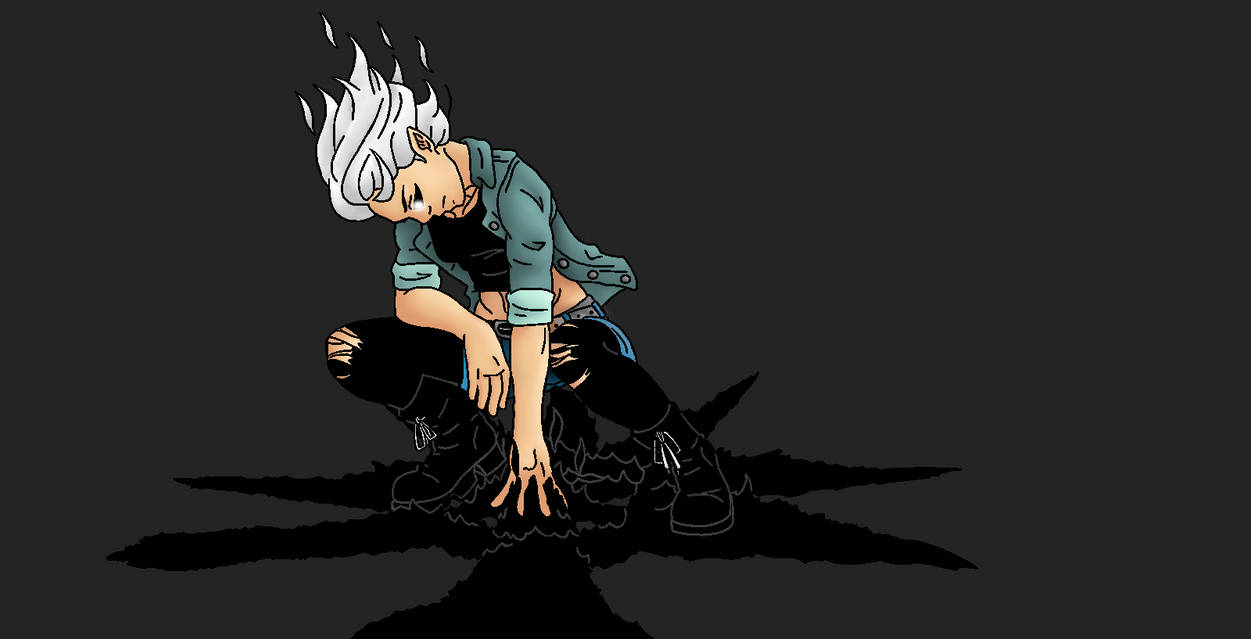 The girl looked up to him then with a straight face before whistling to him patting her inner thigh with the palm of her hand. "Mere' " This overflowing the man with rage sent him charging like a bull towards her "I ain't damn dog!" he roared out he stepped through the flames that shot up and onto him. His body quickly slowly as his breath started to become visible. He watched her face unchanging as she watched him slow more and more his body weakening further and further as he stayed in the flames before he fell onto the ground in front of her shivering.
"Good dog…" She said lifting her hand from the ground the flames fading away. The man slowly passing out as the flames left his body but he still shivered. She looked form him to her hand as she heard the crowd go from shock to awe then awe to cheering. She would never get used to the feeling of those flames draining life force from those it touched… But at least she knew how to avoid killing others with it by now. She stood back up as some police cars started toward her area.
She looked off from the direction her pointed elf like ears twitching a bit as her hair fell back down at her sides laying lazily now with its soft short wavy black locks. She walked off as her eyes faded to white and her irises turned into a deep blue color her pupils mostly returning to her they seemed tinted in a slight blue color from standard black colors. She made her way into an alley way as the crowd kept clapping and started to make their way over to the scene.
She walked down the alleyway hearing the cars arriving at the scene and commanding voices telling the crowd to keep back. She gently ran her fingers along the side of her forearm in a soothing and calming way that she always found instinctive and calming, she closing her eyes for a moment thinking, 'It's very rare, but sometimes things feel familiar to me… and oddly enough taking down people who previously had been doing wrong… felt very familiar.' She lazily reopened her eyes 'but the thing is… what feels the most foreign to me… is whats allowing me to take them down easily… my abilities. They feel the most unfamiliar… like they shouldn't belong here.' It felt like the more she went down one path the further off she was from paths to different answers…
'My name I think is Janet, I have odd deadly powers, I have issues with positive things but open to negative things. I feel familiar with fighting but not my powers. Though I believe taunting others is pleasing to me… Maybe I have been a crime fighting person with a bad personality and got pleasure from taunting my opponents….? It's a start at least.'
((hope you liked it, hope you'd vomit buckets didn't get too full from **** writing, good day to you sirs))