*Le Shrug*
0029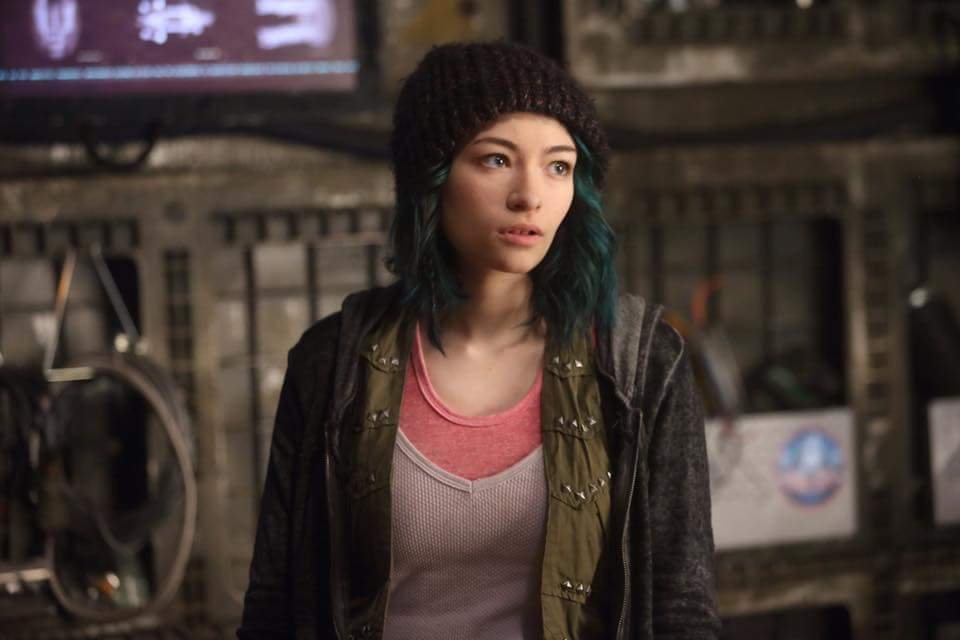 «««IDENTITY»»»
Full Name:
0029
Nickname(s):
29
Codename:
N/A
Alias(es):
N/A
Age:
14
Race:
Genetically Engineered Meta Human
Alignment:
Neutral
«««PHYSICAL DESCRIPTION»»»
Hair Color:
Black near her roots for about 1 to 2 inches, then fades into a vibrant color of teal.
Eye Color:
Light Blue
Gender:
Female
Height:
5'4"
Weight:
110 lbs
Other Traits:
She has the following writing on her right side along her ribs: 0028|//|\/'','
«««SKILL SET»»»
Powers
Enhanced Physical Capabilities:
29's body is physically more advanced than most and maes so that she can run up to 100 mph like a normal humans sprint, on top of this she has enhanced stamina through her knowledge on how to control her energy output when running and just physically having more stamina. She can run about up to 20 minutes without issue and sprint for roughly 12 minutes straight before becoming exhausted and out of breath.
- Night Vision: 29 is able to make her eyes shift to see things in night vision at any point of time though if she turns this on while it is bright in the area she will see nothing but what would look like to her, an area that is shining bright lights into her eyes which can mess with her vision the same way a bright light from a flashlight or a flash on a camera could.
- Hyper Hearing: When focusing she can hone her hearing to focus on a conversation from even 50 ft away while they are whispering and hear them like they are whispering right into her ear from right next to her. Though while doing this if someone makes a loud sound right by her ear it will enhance 10 fold and could even if loud enough defend her for a short amount of time. (this meaning like a loud clap = 5 seconds, or a scream would be 10 to 15 seconds of her just hearing a ring in her ear and nothing else.)
Controlled Explosions:
things that 29 breaths or blows on when trying to use this power will start to glow like they are super heated and will slowly turn white before exploding at a size based on their size. The area where she can cover the area on things can only stretch to the max size of a15 ft bubble. And explodes when at max size, with 10 tons of force. Though the smaller she goes with the object/surface area she uses the smaller the explosion and its power. Each explosion is timed to go off 10 seconds after lighting. She can only make up to 2 max size areas at once and or up to 2 max sizes of smaller things that make up this span size. After making 10 max sizes she must wait 1 minute before she can create any more. None of the things she can blow up would cause shrapnel though and would only count the possible shrapnel as just apart of the whole explosive item.
- Explosion Absorption: 29 can asorb explosions that strwtch to 15 ft in a bubble shape and up to 10 tons of explosive force. She can at one time can only absorb up to the mass of 1 of thes max sized blasts but can do this 3 times before needing to wait for 1 minute and 30 seconds for it to process it all. With each maxed out explosion size she absorbs it tacks on 30 seconds for it to process. While it does she will feel like her body is being exploded over and over in the inside of her body. Any shrapnel made or cause by an explosion can still harm her though despite this power.
- Explosion Immunity: 29 is immune to explosions that she has created though if they cause other explosions that add onto her inital one she will be hurt by it like anyone else.
Perfect Mind:
Due to her brain working super efficiently to a crazy high level 29 has a language comprehension ability that allows her after hearing someone speak in a language she doesn't naturally know she can understand what they are saying after roughly 5 minutes worth of them talking. She at this point can't speak it still or write in it but she can none the less understand what they are saying. Though after 30 minutes of her no longer hearing this language her progress is reset to where she would have to sit through 5 more minutes of them talking again.
- Perfect Memory: 29 can remember everything she has ever seen, glanced at, heard, smelt, etc. Even if it was for a brief moment as well. Though due to this she at times has to sit down and focus on remembering something in order for her to actually remember things especially the more complex of what she's remembering. This can range from 30 seconds to even a few minutes to an hour.
Skills
- Knows, Russian, English, And Sign Language
- Master Art Sketching Skills
- Expert Lock Picker
- Advanced Hotwiring Skills
- Master Pickpocketing Skills *
- Expert Stealth Skills *
- Advanced Mixed Martial Arts
- Expert Climbing and Parkour Skills *
Physical Weaknesses
- Bright Lights: If she sees normal bright lit areas or bright lights while her night vision is on she could end up temporarily blinding herself.
- Hyper Hearing: If someone makes a loud sound right by her ear it will enhance 10 fold and could even if loud enough defend her for a short amount of time. (this meaning like a loud clap = 5 seconds, or a scream would be 10 to 15 seconds of her just hearing a ring in her ear and nothing else.)
- Everlasting Explosion: While she is processing the explosions she has absorbed she constantly feels it inside her like her body is being exploded over and over again on end until the processing is complete.
No Speech: 29 does not have any vocal chords making it impossible for her to speak other than very slight sounds that come from grunting or very breathy sounds that come from shaping the mouth and using the tongue and or teeth to give that blown out air sounds.
Mental Weaknesses
- Large memory bank: Due to her being able to remember everything that has ever happened to her that's she's seen or read or glanced at, she usually has to stop and focus on thinking about something for a while before actually being able to remember it totally even if it was what she just bought from the store 30 minutes ago. The more complicated the memory the longer it takes her to remember everything.
- Handouts: 29 doesn't always like to recieve help from others when she doesn't feel like she can pay them back. To her they are like handouts and debts. She will take help from others time to times or even gifts but after a while even if she desperately need the help she would decline the offers seeing them as debts she would need to repay.
Equipment
- Pocket knives (2 of them)
Spoiler:
- Lockpicks
- Backpack
- Round goggles
Spoiler:
- Notebook
- Pens
- Pensiles
«««CEREBRAL PROFILE»»»


[b]Personality
29 is someone who takes pride in being independent and normally likes to do things on her own because of the joy she feels knowing she did something hard on her own. She though is still a very curious girl and despite knowing she shouldn't go too far into her past in who she is she doesn't do well at hiding it sometimes if she even tries to. She is a very determined person and is not one to give up easily. She is resourceful and normally can find a way out of a tough situation.

Likes
- Sour Candy
- Spicy foods
- Learning
- Watching / spying on things and others
- Stealing
- Feeling like she earned or worked hard to obtain something on bwr own

Dislikes
- Bitter foods
- Bitter people
- Absorbing Explosions
- Some birds
- Fish
- Things that are made just to make you angry

Habits/Hobbies
- Spying on others for info.
- Climbing on things and people sometimes.
- Just watch things from afar



[/b]
«««PERSONAL BACKGROUND»»»


[b]Family Members: 0008|//|\/'',' (Sibling)  0013|//|\/'',' (Sibling) 0020|//|\/'',' (Sibling)
Place of Origin: A Secret Facility In Russia
History
She was created along with many other children in the attempt to make the perfect humanoid though she was one of the groups that were only the first set of prototypes. This being due to the metagene. During their time of creation and planning to be created/their initial blueprints. Meta humans were still very new to the world. Their genetic coding was extremely flawed and complicated things immensely for them she was only 1 of the 4 children who survived these complications due to their meta genes not activating during them growing from the age of 0 to 1 years old.

Due to the success the people she was created by experimented on her greatly to test her limitations and how to activate her metagene to see why it didn't activate initially. Her metagene never activated due to their torture though. No they activated when she actually got food poisoning for the first time and was panicking to an extreme amount due to not knowing what was happening. Shortly after puking she found it glowing and then found out that her breath could make things explode. Shortly later though her powers were found out about and her tests were then uped in level to make them more extreme.

The only good side to this though was the bonus of her learning how to control her powers to their low level state they were at. It was around this time that there was a power outage and she and the other 4 children used their newfound powers to escape into the outside world. Though being only 13 years old upon escaping and not being able to take any risks of being found and recaptured and was now on her own it was a given that she just slip into the common street rat kids. She though used her skills to make her way to the united states from Russia. It was here that she started to become heavily dependant on stealing, gathering intel, selling it, other things, and living off of whatever she could.
[/b]