"I can be whoever I want to be!"
Lynexia Ramonita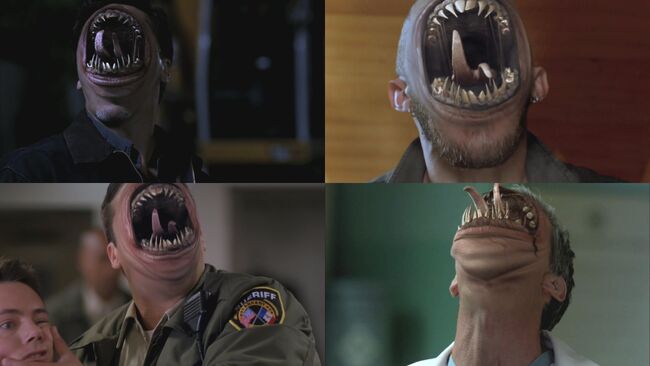 «««IDENTITY»»»
Full Name:
Lynexia Ramonita
Nickname(s):
Lyn
Codename:
Levi
Alias(es):
Whoever she currently looks like
Age:
Ageless
Race:
Outsider - Leviathan
Alignment:
Nuetral Evil
«««PHYSICAL DESCRIPTION»»»
Hair Color:
Depends on her meat suit
Eye Color:
Depends on her meat suit
Gender:
Female though looks wise it depends on her meat suit.
Height:
Depends on her meat suit
Weight:
Depends on her meat suit
Other Traits:
Depends on her meat suit, but also a huge mouth when she gets ready to eat. Her blood is black and thick like glue.
«««SKILL SET»»»
Powers
- Physiology:
* Powerful jaws - Leviathan possess massive, retractable jaws that are immensely strong and serves as their primary weapon and way to feed. Their jaws can rip open almost anything they bite into, including humans. Using this ability significantly alters the users face, such removing their eyes and nose to make room for their jaws. They bite through around 5 tons.
* Super strength - Leviathan can lift about 5 tons, more than enough strength it take to say, snap a neck to prevent too much noise from a victim. *innocent smile*
* Regeneration -  Leviathan can heal from virtually every form of injury. They can even survive decapitation and will reattach their heads to their bodies after a short time (though they will be inactive until they reassemble). They are also able to regenerate from the damage inflicted by borax. This healing process varies in time. A borax burn heals within a few seconds, where something more severe such as a deep cut takes at least a full minute. A broken bone can take up to an hour, where as severed limbs take at least twenty-four hours.
- Power One:
*Immortality -  Being creatures much older than humans, the Leviathan are immortal, in a variety of senses, in that having an ageless lifespan, meaning they simply do not age, and can not be killed by but one mean, devised by God himself. Leviathans were one of God's first creations, being before humans.
- Subpowers:
* Super intellegence - Leviathan are very adaptable as they were able to grasp full understanding of modern technology and systems despite being in Purgatory since the dawn of time.
* Enhanced senses - Leviathan have a sense of smell capable of scenting a drop of blood and knowing who it came from. Thier eyesight helps them be focus on a person in a large crowd and not lose them. Their hearing is good enough to hear someone chewing from the next room of a sized normal house.
- Power Two:
* Shapeshifting - Leviathans can take the form of any living thing they want, only takeing moments to shift, though they do have to touch a sample of DNA from who/what they want to shift to.
- Subpowers:
* Possession - They can inhabite a living body for up to 24 hours before they must either find a diferent host or leave the body and shift. During and after the possesion they will appear to look like black smoke.
* Venomous Blood - If you consume a leviathan's blood or if it touches an open wound, it will instantly make you very sick, and black blood will leak out of any opening in your body after you're dead.
Skills
* Exceptional *
- Fast
- Fist fighting
- Smart
- Impersonating Authority
- Using a machete
- Faking emotion
- Picking locks
* Other *
- Shooting a gun
- Gambling
Physical Weaknesses
- Borax will physically burn
- Chopping off her head and separating it from the rest of her body will prevent her from regenerating.
- She can be killed with a "Bone Of Righteous Mortal Washed In the Three Bloods of Fallen"
Mental Weaknesses
- Leviathans have an endless hunger, only temporarily satiated with human flesh
- She is emotionally scarred from purgatory
- It is nearly impossible for her to open up to anyone.
- somewhat short temper
Equipment
- Lots of different fake IDs
- Cell phone
- Shoulder bag or briefcase, depending on form
- Laptop
- Pocket knife
- Hand Gun
- Machete
- A single finger from different disguises, carefully labeled for each person
- A couple thousand dollars
«««CEREBRAL PROFILE»»»
Personality
- Lynexia is far superior to humans, or so she believes. She allows them to live most of the time, that is, unless they're rude, get in her way, she's hungry, or she just really needs their "meat suit". Lynexia can adopt her meat suit's personality pretty easily for she gains their memories, making it easy to figure out how they would react in any given situation, though she does slip up once in a while.
- Lynexia most of the time will fall into the personality of whoever she is wearing in her everyday life until she starts doing something... villainy. At that point, she is her own, true self. Her *****, rude, sarcastic, "I-don't-care-what-you-think", stuck-up persona is her go-to in most villainous situations.
Likes
- People who are easy to manipulate
- Human Flesh, especially orphan alfredo pasta
- Herself
- Purgatory
- Demons
Dislikes
- Angels
- Rude people
- Vegetables
- Children
- Optomistic twits
Habits/Hobbies
- Gambling
- Taunting
- Causing meaningless fights
- Eating people
«««PERSONAL BACKGROUND»»»
Family Members:
All Leviathans
Place of Origin:
Purgatory
History
- God's first creature were the Leviathan. They were a mistake. They were bloodthirsty creatures with an endless hunger. God grew afraid that the Leviathan would hunt all his other creations into extinction, so he locked them away to Purgatory.
- Lyn was born in Purgatory. Her parents were both Levis. She spent her whole life in purgatory, watching the birth and the growth of mankind through a tiny rip of a portal. For years and years, she picked at the little rip, it slowly growing until she could squeeze through it, simply a ball of shadow until she touched a human.
- She quickly shifted to the man's shape and ate him whole. She repeated this gruesome process to several other people until she was no longer starving. She then began to blend in with this new world, the people's memories serving her well in the way of communicating and fitting in.
«««Sample RP»»»
- A dark shadow fell across the young girl as she began the walk home. Lyn had watched her for weeks and determined her to be a good disguise. The girl was inconspicuous enough that she would not be suspected of a crime, but no family and little friends so she nobody would notice she'd gone missing. Lyn grinned, her current meat suit mimicking her expression the best his chubby face could.
- He hadn't been the best choice, but he did fine on the short notice she had before they would have found and arrested her previous meat suit. Plus, he had provided a large meal. Lyn drew her small pocket knife and flicked it open without a sound. She crept up behind the girl, covering her mouth quickly before shifting to match the perfectly chosen girl in every way and slid the knife across her throat. Her mouth opened wide to reveal several rows of huge teeth as she swallowed the girl quickly.