"Just give me what I want, and we can all go home happy."
Jack Hawke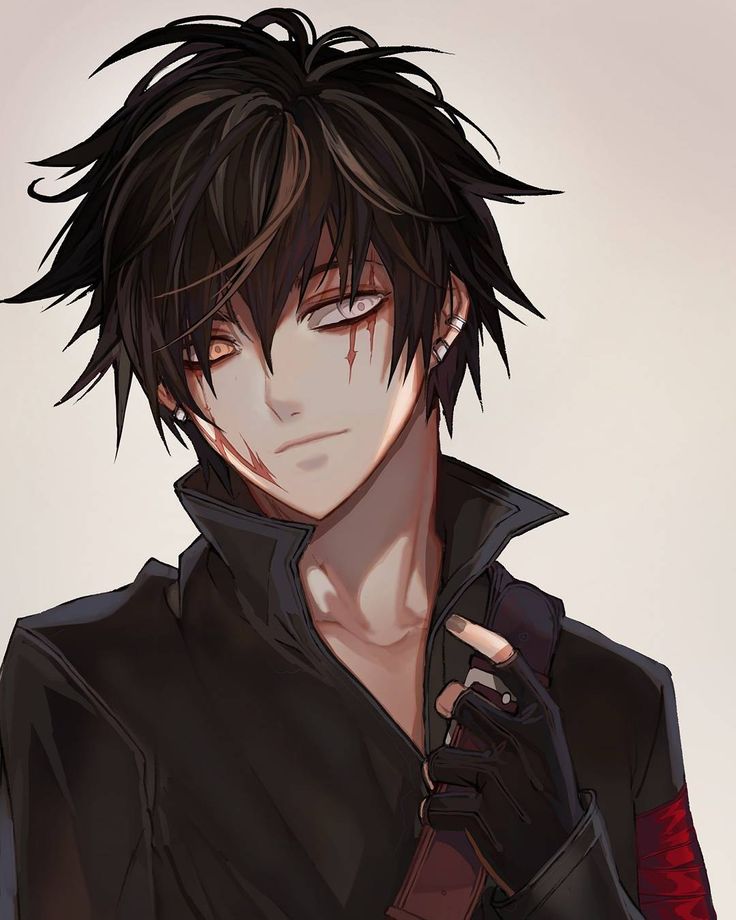 Corvus:
«««IDENTITY»»»
Full Name:
Jack Hawke
Nickname(s):
Hawk, Crow
Codename:
Corvus
Alias(es):
NA
Age:
17
Race:
Meta Human
Alignment:
Lawful Evil
«««PHYSICAL DESCRIPTION»»»
Hair Color:
Brown
Eye Color:
Silver left and Amber right (Heterochromia)
Gender:
Male
Height:
5'10"
Weight:
140 lbs, 210 with Corvus armor
Other Traits:
Jack has a somewhat faded scar under his left eye
«««SKILL SET»»»
Powers
Murder of Crows: Jack has the ability to create illusions, projecting up to three copies of himself. These copies can be placed and oriented in any way Jack desires within a fifty foot radius, however once they have been created they will simply mimic his actions and words. The illusions are incorporeal, so attacks thrown at them will pass through unharmed, and they will likewise move through any objects in their path. Jack's illusions can also mimic any inorganic object he is holding, such as a knife or wallet, however like the base illusions these objects will also be incorporeal. While the illusions will mimic anything Jack says, they cannot reproduce sounds made from interacting with the world, such as footsteps or even something like Jack scraping his talons together. Illusions can be created and dispelled at will.
   Scouting: Jack can use his illusions as scouts, perceiving through their senses in addition to his own. With one clone at a time, Jack can gain a mental picture of everything in that illusion's field of view and hear what's going on around it as if he were actually there. He is able to distinguish these senses from his own surroundings, allowing him to continue to interact with the world on his own.
   Teleport: When looking at one of his illusions, Jack can teleport to its position, effectively replacing it with himself. This power does not leave an illusion in Jack's place, and unlike creating or sensing through them, Jack must be able to see the illusion he is looking at in order to teleport to it.
Enhanced vision: Jack's metahuman abilities grant him the ability to enhance his vision, helping him to see things that others would not be able to. This power's basic form allows him to magnify his vision, effectively allowing him to see as though he were using a pair of binoculars.
  Thermal vision: Jack's second visual enhancement gives him thermal vision, coloring objects in his view based on their temperature - much like a thermal camera.
  Night vision: Jack's final enhancement is night vision, allowing him to see near perfectly in the dark, albeit in grey scale.
Skills
Exceptional lockpicking
Exceptional hand/talon-to-hand combat.
Physical Weaknesses
It burns! - The Corvus armor is metal, and acts as a good conductor of heat energy. Raising the temperature of the metal will in turn transfer the heat to Jack, making it fairly easy to deal him severe burns or force him out of the armor.
Tough, not strong - While the Corvus armor protects Jack from large forces, it does not make him any stronger. Dropping a light car on Jack may not hurt him, but it will likely pin him and effectively render him immobile.
Hey, that's mine! - The Corvus tablet can be used by anyone, it is not exclusive to Jack. If someone is able to remove it from his person, they can both deprive him of a large source of power and gain it for themselves.
Can't see, can't move - Jack's teleport ability requires him to be able to see one of his illusions. If the illusion is blocked off or Jack is somehow blinded, he won't be able to teleport. Furthermore, Jack must be able to see the illusion with his basic vision - he cannot teleport if he could see an illusion with night vision, but not normally.
Mental Weaknesses
What'd you say? - Jack is quite brash, and can easily be angered or goaded into a fight.
We can do this the easy way - Jack prefers to avoid wanton or unnecessary killings. If provoked he feels no remorse for his actions, but if possible he prefers to avoid needless deaths.
I want that: Jack is greedy, and his greed can be used to motivate or manipulate him. If he thinks there's something to be gained, odds are he's in.
Stay. The heck. Away from them. - While very self-serving, Jack has an (admittedly small) family that he works to care for and protect. Putting them in danger is a very good way to get him thinking irrationally, and he will do whatever it takes to get them out of harm's way.
Equipment
Corvus Tablet - A metal tablet with the same color scheme as his armor. The tablet is about the size of a typical cellphone, with a single orange button in the middle. Pressing the button allows Jack to don the Corvus Armor after three seconds.
Corvus Armor: By activating a button on his Corvus Tablet, Jack is able to summon his main power, the Corvus Armor. This metallic armor has a crow-like appearance, including a set of wings. These wings are the main feature of the suit, allowing Jack to fly up to 80 miles per hour at a maximum height of 200 feet above the ground, for a maximum of two hours. After flying for the maximum amount of time, the armor needs 10 minutes to recharge before flying again. The armor takes three seconds to form and can be dispelled by Jack at will.
   Durability: Unsurprising, the armor also works defensively, protecting Jack from physical attacks. The armor can withstand up to two tons of force, protecting Jack from the full brunt of the attack as well. Forces greater than two tons will destroy the armor, protecting Jack from the final blow before dissipating. When destroyed, the armor reforms as the Corvus Tablet in Jack's hand, and must recharge for 10 minutes before it can be summoned again.
   Talons: The Corvus Armor also grants Jack metal talons to cover his hands. The talons are capable of slicing through skin, cloth, and other light materials, however more solid or dense structures like rocks or metal are strong enough to withstand them.Lock pick set - Used for breaking and entering
«««CEREBRAL PROFILE»»»
Personality
Jack is a fairly jaded and cynical teen, mostly due to his upbringing. His outlook on life is fairly bleak, and he tends to look for the worst in people instead of the best. A combination of his life growing up and his powers have built up a strong greed in Jack, and he feels that these, in combination with his efforts to provide for his family, entitle him to take what he wants. All of this leads him to look more for allies or tools than friends - people who can help him achieve his goals without any responsibility to care for them or their well-being. He is capable of befriending others, however this tends to require a fair amount of effort on their part. Once someone becomes his friend though, he will treat them as family, doing whatever he needs in order to take care of or protect them if they need it.
Likes
Money
His powers
Flying
Dislikes
Heroes
People who annoy him/get on his nerves
Anyone who threatens his friends/family
Habits/Hobbies
Taking care of his family
Clacking his talons together when nervous or impatient
«««PERSONAL BACKGROUND»»»
Family Members:
Olivia Hawke (mother), John Hawke (father), Sarah Hawke (younger sister)
Place of Origin:
Jump City
History
Jack was born to Olivia and John Hawke, two fairly poor residents of Jump that lived in Crash Alley. Neither had very skilled or high-paying jobs which, combined with the "protection" money regularly extorted from them, meant that they were frequently just scraping by. By the time Sarah was born four years later, John had had enough, packed up his things, and left the rest of the Hawke family behind to fend for themselves. Olivia began working multiple jobs to provide for herself and her children, frequently coming home exhausted only to leave again after just a few hours of rest. Due to the lack of time spent with his mother and the influence of the other residents of the Alley, Jack quickly developed many bad habits - theft and occasional assault ranking at the top of the list. In part, he rationalized that his actions were to help provide for his family, but part of him felt that he deserved whatever he took - nobody else could give it to him, and he was able to get it for himself. By the time his own abilities developed, Jack was already heavily involved with crime in the area - the powers just made him all the more effective.
After a long day of thievery and profit, Jack was relaxing at the junkyard, staring up at the stars. One particular shooting star caught his attention, as it appeared to be coming almost directly towards him. In fact, the star grew larger as it came closer, flying just over Jack's head as it crashed into the junkyard. Moving to investigate, the teen discovered a small metallic box with a button in the center. Upon pressing the button, Jack was surprised to find himself covered in bird-like armor, complete with wings and talons. After quickly learning how to dispel the armor, the thief rushed back home, anxious to devise ways to use his newfound power. Instead, he saw some of the usual enforcers at this house. Apparently his mother had been unable to provide the necessary money for the month, and they aimed to remind her what happened when people couldn't pay up. Jack's eyes narrowed as he thumbed the button on his newfound tablet, giving the ones who had sent the men a lesson of their own - you don't mess with the Hawke family. Since then, Jack has worked towards two main goals - making enough money to provide for his family and his own desires, and building his reputation and influence in Jump's underground.