"I'm a fan of smashing things."
Cuelphihy of the Euriph Kingdom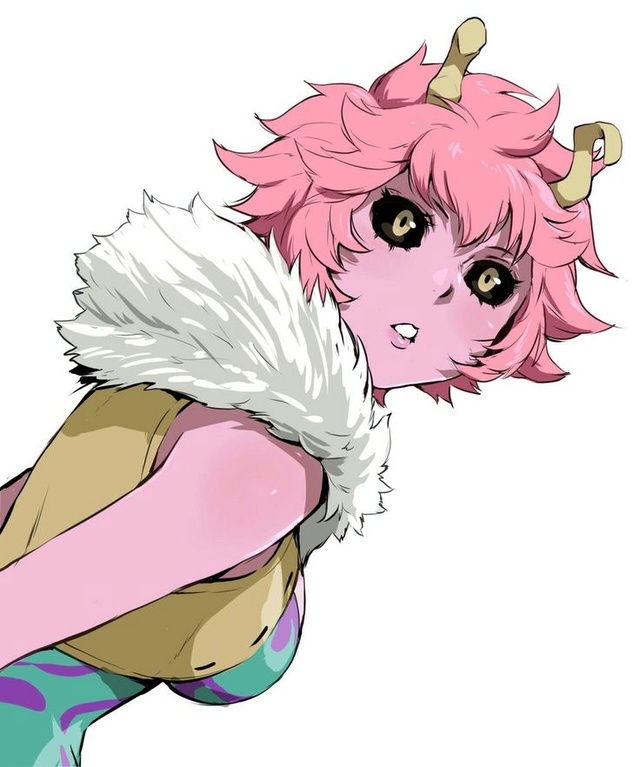 https://i58.servimg.com/u/f58/17/23/63/84/e9408910.jpg
«««IDENTITY»»»
Full Name:
Cuelphihly of the Euriph Kingdom
Nickname(s):
Cue
Codename:
N/A
Alias(es):
N/A
Age:
17 in human years, 27 in Euriph years
Race:
Euriphian
Alignment:
Neutral, takes on friend's alignment.
«««PHYSICAL DESCRIPTION»»»
Hair Color:
Pink
Eye Color:
Black Screla and Yellow Iris
Gender:
Female
Height:
5'3
Weight:
107 pounds
Other Traits:
-Yellow antenna like horns coming from head. They are made of the same thing her bones are made of
«««SKILL SET»»»
Powers
Physiology
-Durability/Bone Structure
Cue's bones are strong enough that it takes 1 ton to break them. She also has more ribs to protect her two hearts and it's more covered.
-Strength
Cue's species all can easily lift 2 tons of strength.
-Radiation resistance
Her people are naturally resistance to radiation and isn't affected by toxic waste in the air like a human would be.
Goo Manipulation
Cue can create goo from her hands, mouth, and feet as a form of weapon. She can produce 100 gallons of goo every 30 minutes, to switch between goo has a cool down time of 10 seconds. She can shoot the goo in 25 feet in any direction at 80 mph.
-Regular Goo
This goo is as plain as it comes, it's pink and is more of an inconvenience than anything. It's sticky enough to hold 100 pounds to a wall without breaking, unless there's water around.
-Acidic Goo
This goo is purple and can melt through things. It can melt through steel within 3 minutes.
-Solid Goo
This goo comes out like pink goo (its purple in color), but after 5 seconds it becomes completely solid. It can take 1 ton of force before shattering. The biggest thing she can make with this goo is a shield that's 6 foot tall and 3 foot wide. She can't pick it up and move it, it has to stay where it's made and needs some kind of supports to stay up.
-Expanding Goo
This goo comes out green an can expand up to 5 feet in all directions. It's just like the pink goo but can trap people in its goo prison. It takes 30 seconds for the goo to reach its complete goo expansion capacity. It has all the normal properties of her regular goo
-Explosive Goo
This goo is yellow and is as explosive as a grenade. Once planted, cue needs to light this goo on fire for it to blow up. Unlike others, she can only produce 2 gallons of this every day.
Skills
-Making friends
-Expert Hammer Wielder
-Mediocre hand to hand combat
-Good survival skills
Physical Weaknesses
Human Like Body
Despite her bones being harder to crush, her skin is still like human and can be cut and pierced to reveal her green blood. Her organs can also be shot or stabbed.
Water
Water can wash away her goo or make it dissipate. It takes 1 minute to weaken her goo and 2 minutes to remove it completely. Or if the water has enough force, it can push it away.
Copper
Copper is her weakness and can cut through her goo completely. It can also cut through her bones like butter.
Mental Weaknesses
Naive
Cue is still young and very Naive, she doesn't really understand morals and once she takes a liking to someone, she'll do whatever they say without reason. She's also very blunt and doesn't understand how her words can hurt people.
Fierce Loyalty
Once she latches herself onto someone, she will do whatever it takes to protect them and their beliefs. Because of this, it can get her in trouble when she decides to protect the wrong people.
Attacking First
Most of the time Cue just attacks first without thinking, she doesn't use her head with most situations, especially if her friends tell her to do something. She doesn't think of the consequences either.
Equipment
Nyq-ril
Cue's weapon of choice. It starts out as a tiny size key chain, and when activated it becomes of 6 foot long hammer with fists that are 3 feet long each. It's made of a similar material as her bones, so it's sturdy enough to break through metal with enough hits. It weighs roughly around 700 pounds. Besides that it's just a regular hammer.
Spoiler:
«««CEREBRAL PROFILE»»»
Personality
Cue is very young compared to the rest of her species whom easily live to 200 years of age. Because of this she is still very easily manipulated and naive and doesn't quite understand how to form her own opinions on things other then she loves something or she doesn't. She was hatched to have a specific purpose, and because she left home world without truly following that purpose she is constantly looking for a meaning to her life. On top of that she's not quite sure where her place is in life so she's looking for a group of people where she can latch on, she's a follower and not a leader.
Her loyalty is something that every Euriphian has, although usually its for their people or kingdom. She never quite felt passionate about her Home World, so instead she's now looking for something to place that loyalty. Once she finds that loyalty she'll do anything for that person, taking on their morals and all. She becomes unintentionally puppet like, just like her people.
Besides that she's usually very bubbly and outgoing, she's never really hesitant to jump into a situation because Cue doesn't think twice about situations. She's not level headed and doesn't think about what her actions can do to other people, making her actions brash and immature. Usually when thinking for herself, she has emotional outbursts and temper tantrums, however, when she has a cause or is fighting for someone else, she can be level headed for them. She's good at putting other people first and risking herself for others as well.
Likes
-Her Hammer
-Her Hair
-Beards
-Most Humans
-Adventures
-Rita's Strawberry shaved ice
-Water animals
-Pink things
Dislikes
-Babies
-Specifically crying babies
-People that oppose her friends
-Space Nazis
-Vanilla
Habits/Hobbies
-Often gets lost
-Walking around with no particular destination
-People watching
-Eating pink things
«««PERSONAL BACKGROUND»»»
Family Members:
Unknown
Place of Origin:
The Planet Euriph
History
The Planet Euriph is several light years away from Planet Earth. It was attacked by a military dictatorship early on with radioactive attacks, similar to nuclear bombs. This wiped out almost the entire planet except the kingdom of Euriph, protected in a large goo bubble. This was put up and is maintained by workers when news of an attack surfaced, 500 years passed and it is still maintained, protecting the kingdom from the hazard filled outside world.
Euriphians are all hatched for specific purposes, whether that be to work on the shield, to rule people, to gather outside resources, to deal with the new hatchlings, or even to work in the royal kitchen for your entire life. Cue was hatched to be a pet of sorts, a thing that rich people owned to show other rich people that they had money. This is why she was designed to be fiercely loyal, but before she could be given off to someone she was one of many things to be taken during a trade with aliens gone wrong.
Only being alive for 27 Euriph Years (17 human years), Cue was about to complete her training on how to serve, protect, and honor her future Tylpin, but was interrupted by an alien ship visited the palace. It was supposed to be a peace trade so that Euriphian's would have access to greater technology, the species not having any, but instead the aliens betrayed them and secretly took many eggs, people, and resources, leaving the Euriphians with technology that barely worked. Cue happened to be a few that they took, using to sell their stuff to make some side money, but Cue wasn't entirely against this. She wasn't a fan of staying on the same planet her entire life, and here she was, exploring space. They weren't necessarily treated poorly, her and the other few that were taken, they were fed well and given a nice place to live, equivalent to where she grew up. One of the women on the cabin was very nice, although she was quite ugly and often sang awful music from Earth.
This piqued Cue's interest in another planet, she was told stories of other places out among the stars, but to be told about a lovely Earth with beautiful blue skies and green grass? That was something Cue wanted to see for herself, so she did. She easily trapped the rest of the crew out of the pod area, grabbing a back pack on the way out.
She grabbed one of the many weapons they were planning on selling and used that to smash. It was a tiny hammer, but soon after swinging it around it grew huge and she was able to wipe out the flashing lights above her, on top of smashing the doors open to get to the pod. Once she was there she set coordinates to Earth, after yelling at the machines of course.
More importantly, she was finally doing something she always dreamed of doing, exploring on her own. Sure, Earth might not be that great, but she's sure anything is better than being stuck on one kingdom your entire life. Now Cue is almost to Earth and ready just to check things out, not really sure what to do when she gets there.