Tyler Blackwell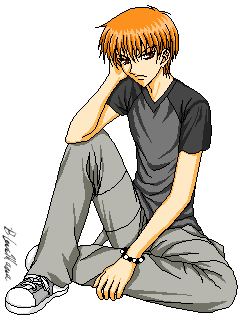 ===IDENTITY===
Full Name:
Tyler Blackwell
Codename:
Blackwell
Nickname(s):
Tyty (but he hates being called that)
Alias(es):
None
Age:
17
Birth date:
11/9/1993
Classification:
Meta human
Affiliation:
Good
===PHYSICAL DESCRIPTION===
Hair Color:
Orange
Eye Color:
Brown
Height:
6' 1"
Weight:
180
Other:
He usually wears loose pants and tight shirts
===POWERS===

Powers:
Tyler Blackwell in considered a "perfect" specimen of human development and conditioning. Blackwell's strength, endurance, agility, speed, reflexes, durability, and healing are at the highest limits of natural human potential. His powers enhances all of his metabolic functions and prevents the build-up of fatigue poisons in his muscles, giving him endurance far in excess of an ordinary human being so he can keep his amazing feats up for well over 8 hours without getting tired. This accounts for many of his extraordinary feats, including bench pressing 1100 pounds (500 kg) and running a mile (1.6 km) in little more than a minute. Tyler is more resistant than most at being intoxicated by alcohol, drugs, or impurities in the air and is more immune than a normal human to terrestrial diseases. Which doesn't always help other things like getting medicine that is strong enough for his body not to reject. He is also highly resistant to hypnosis or gases that could limit his focus. His reflexes and senses are also extraordinarily keen. He has blended judo, western boxing, kickboxing, gymnastics, and surprisingly juggling and object manipulation into his own unique fighting style and is a master of multiple martial arts.
===PSYCHOLOGICAL PROFILE===

Likes:
Juggling, good jokes, showing off, learning new tricks.
Dislikes:
Going to sleep, waking up, stopping practice, people touching his juggling props.
Strengths:
Always practices and works out and usually doesn't show emotion in battle
Weaknesses:
Doesn't like to go to sleep so he tends to stay up for nights in a row and gets exhausted but when he does sleep he sleeps all day or more so he wouldn't be any help fighting in that condition.
Skills:
Juggling
Equipment
: Three knives specially balanced to make them perfect for throwing and manipulating all about 1.7 feet long with handle made by him for his unique fighting style. As well as a trunk filled with juggling props that he doesn't use for fighting he just uses them to juggle.
Habits/Quirks:
He doesn't sleep much because he loves practicing his juggling and he doesn't want to stop so he often ends up collapsing and waking up a day or more later. He has tried to take pills that will keep him up longer but his powers see that as a disease so it rejects it from his system therefore making the pills not work for him. He is also a fanatic about juggling, and will consider killing people if they touch his juggling props.
Personality:
he will come off to be rude at sometimes because of his jokes or what he says but he really doesn't mean anything he says unless its about juggling or things that he knows about and lives for. He love being around people but he usually has one person that he can't stand and wishes the worst to him/her. Other then that he doesn't really care what you think about him because he feels fine just the way he is.
===PERSONAL BACKGROUND===

Family:
unknown at the moment but he grew up with an older brother and sister and a mom and dad.
Place of Origin:
St. Louis Missouri "the middle of everything city"
History:
not much is known about him other then he was born and raised in St. Louis Missouri and grew up in a pretty normal family. His family may have seemed normal but they were all meta humans based in different super hero stations across the united states. Since he was the youngest and his powers weren't mature yet so he had to stay home and live on his own. The only skill he had that could get him money was either prostitution or juggling...he chose juggling. He started to do shows at night clubs and where ever he could get hired. He soon was noticed for his skills and was sent up to jump city to do a show there. About a year passes and he became 15 when he finally got his powers. It turns out they are nothing that special just being faster, stronger and more agile basically like a human just better. He started to train by his self on fighting styles and ways he could incorporate juggling into that. He made up a style of fight which requires three objects and the manipulation of them combined with speed, strength and accuracy you got your self one heck of a fighter.
Sample RP
Tyler walks up to the titans tower and places his bags down. Looking up at it he thinks to himself
daaaaaaaaaaaaaaaang this place is much bigger then i expected. There's no way they could have room for me.
He picks his bags up ad starts walking towards the tower he walks up to the security panel and clicks a button.
"Hello? Any one here? Ummm... ok"
he starts to mash on the buttons trying to open the door on call someone. Nothing happens. He backs up and sits down on his trunk filled with juggling props. He leans down and picks up a rock.
What if i broke in? Then they would have to let me stay because they'd know I'm useful and can break in to stuff.
He takes the rock and trows it at a window. The window breaks and the alarm goes off.
CRAP! I gotta get outa here.
He grabs his bags and runs.
(Sorry if this was bad or too short I'm not really good at these kinds of things)