"If you don't look out for yourself, who will?"
Matthew Nicholson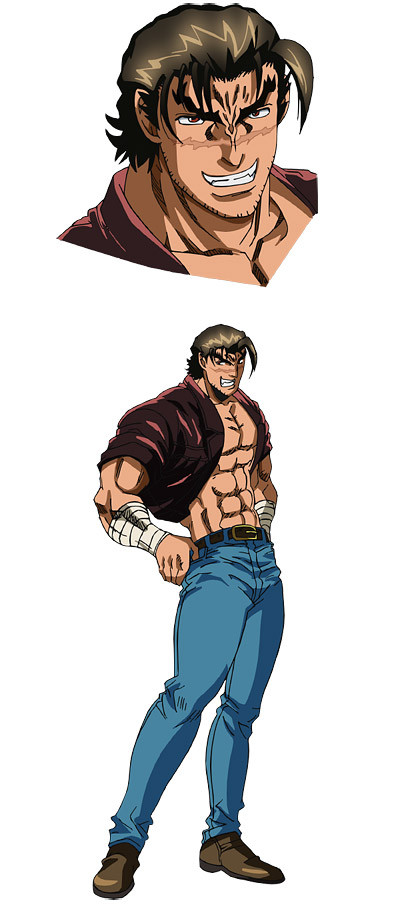 «««IDENTITY»»»
Full Name:
Matthew Nicholson
Nickname(s):
Matt
Codename:
N/A
Alias(es):
N/A
Age:
17
Race:
Meta Human
Alignment:
Chaotic Neutral(somewhat leaning towards good)
«««PHYSICAL DESCRIPTION»»»
Hair Color:
Brown
Eye Color:
Brown
Gender:
Male
Height:
6'5"
Weight:
approximately 500lbs(appearance: 260lbs)
Other Traits:
Large scar across his face.
«««SKILL SET»»»
Powers
-Matt has the ability to absorb and manipulate energy in his favor, blessing him with superhuman durability, a mild healing factor, and night vision.
Durability: This is what his body has done the best, able to withstand upwards up 15 tons of force. Not only does it take quite a bit to slow him down but his body is actually more dense then the average human, so it'll take more then a normal human can apply to do any damage.
Healing: Matt doesn't actually have a healing factor for himself but he's able to accelerate the healing of others. This skill is unable to repair broken bones or anything major without taking a substantial amount of time and energy on his part, minor wounds are a easier but this isn't something he uses frequently in either case as he's found it will temporarily weaken his own ability.
Night-vision: Matt's body has evolved to more effectively see in the dark, however having no control over his power this ability never turns off.
-Hand to hand combat, Matt excels in boxing. The combination of skill and physique makes him a force to be reckoned with in a close quarters
Skills
-Trained abilities, While not superhuman he is quite a bit faster, stronger, and has better then average reaction time. These are simply the product of years of training.
Physical Weaknesses
-He is unable to control his own night vision, meaning without sunglasses during the day or in the face of a bright light he's just a really big, really hard to beat up blind guy.
-over/undercharging. As you might expect his powers have a finite ability. This means in a longer fight he could end up taking no physical damage but passing out due to the fatigue of the consistent healing. On the flip side it's also possible to force too much energy into his body, either by surpassing a total limit he can handle or by throwing too much at him too fast, both would cause him to extreme discomfort, lose of consciousness, or a large enough excess of energy could end his life it's forcefully stored without any immediate use.
-Energy use. Matt requires a lot of energy to function, while his body stores a lot of energy he burns more then the average person as well. Matt eats around 6 meals a deal and is snacking almost non-stop.
Mental Weaknesses
-Selfish, simply put it's hard to earn his trust and he acts in favor ot himself over others almost all the time. Not that he's unwilling to work with others but it will need to benefit him and I wouldn't consider him reliable.
-Rash, to put this simply, he will sometimes make decisions on a whim or without any real regard for the outcome. This isn't usually done because he fails to think but because it can be amusing.
-No direction, one wouldn't exactly describe him as organized, he doesn't even have any idea of what he's looking for. This might make him somewhat manipulable, given the right person in the right situation.
Equipment
-x2Trench knifes(a 6" blade with brass knuckles attached), kept on either hip and something he saves for when he's serous.
-Money
-Candy
-x2Sunglasses, he wears one normally and keeps a second pair just in case.
«««CEREBRAL PROFILE»»»
Personality
For the most part Matt embodies what people would describe as normal and he isn't very inclined to go out of his way to change that. Past being able to appear normal in every day situations Matt can have some pretty interesting ideals, first and foremost he tries to play it smart, he isn't inclined to let anything escalate to a fight unless he's starting it and second to that he has no problem running given the rare situation he'd expect to lose. Overall he lives his own life and tries to let others do the same, just as long as they don't cross him on the way.
While it might appear that Matt doesn't care for anyone that couldn't be further from the truth, he cares a lot for anyone who is inclined to call a friend or someone who has just helped him. He's very capable of loyalty to people who have proven to earn it and these people would have a friend in him in anything but the most dire of situations.
This is Matt's actions but not necessarily what's always going on in his head. He's the product of his upbringing and his understanding of the world around him but he's heard of heroes and to some degree he envies them. He doesn't understand how they're able to just go out of their way, risk their life to help random strangers, it's something he's had thoughts about from a young age. It isn't very often but sometimes he'll try to do the right thing.
Likes
-Video Games
-Fighting
-Winning
-Food
-Animals
-Independence
Dislikes
-Losing
-Controlling people
-Boredom
-Books
Habits/Hobbies
-Cooking, Matt eats enough so he's taken the time to become fairly proficient at it.
-Gym, exercise in general could cover this but most would call him a gym rat, spending a lot of his time lifting weights but he doesn't neglect other aspects of fitness either.
-Super Smash Brothers, as well as enjoying other games he's taking a liking to this one and enjoys showing up to local tournaments.
«««PERSONAL BACKGROUND»»»
Family Members:
Unknown
Place of Origin:
New York
History
Matt doesn't know the situation of his birth, he grew up in an orphanage and never met either of his parents. Life wasn't exactly kind to the young boy but he wasn't homeless either so he had that to be thankful for. He grew up surrounded by bigger kids picking on smaller kids, he had some luck as he was always the biggest kid his age and larger than most a couple year older then him so he was left mostly to himself. He can't claim to be the model of what should be, a younger version of himself had been taken under the wings of some older kids and he'd helped bully kids to get what extra spending money he could and given a few years he'd have likely joined a gang.
It wasn't until he had started boxing at age 12 that the rest of his world fell apart, he loved it from the start and nothing compared to the feeling of learning how to effectively defend yourself. The program wasn't any world class coaching or anything, just something to try and get kids like himself a hobby to stop them from doing something stupid but it worked for him. He had found something he had cared about and was going to follow their rules, including no bullies or fighting outside the gym. This was when he had gone separate ways with his old friends.
Four year later Matt couldn't really complain about where he was going in life, having trained almost everyday since he'd started boxing he had started amateur boxing and had just won his 9th fight in a row, his coach had already brought up the idea of a promising career and things seemed to be going well. This was until one night after training he was stopped by 2 older men, he likely could have outran them and taking a longer way home but his ego got the best of him, he stepped forward and took a fighting stance before he felt a sharp pain on the back of his head, he crumpled to the ground, he remained conscience long enough to hear a few other people behind him and take more of a beating.
He'd wake up in the hospital later bruised, both arms broken, and a large knife wound across his face. He had been told he was found in the street, they hadn't gone far enough to beat him to dead but if no one had walked by he still would have bleed out, he was lucky. He never find out who was responsible but the rumor was that he was the victim of gang violence, some of the staff had thought he was a part of one himself. It hard only taken a day of missing training for his coach to learn of the incident and come visit him, Matt assumed he'd talked to the staff in quite a bit of detail since they seemed to sympathize with him a bit more.
Upon release he kept mostly to himself but had heard that the attack was planned, he didn't know who, either an old friend didn't like that he was trying to make a name for himself or a kid he used to pick on joined a gang and decided to get some revenge. This was going to hold him back and once his arms healed he went back to boxing along side his physio. His physiotherapist frowned upon that but it was something he refused to give up, in the end he'd heal perfectly anyway. It was shortly after he had healed that his powers began to show themselves, his first clue had been his pain tolerance but his second had been his noticeable weight change.
He couldn't stand to go back to his coach, he'd survived so much just to have his dreams ripped away form him anyway. He ran, he took anything he could and ran. It wasn't long into his trip his current abilities would fully form and eventually his travels would take him to Jump City out of an interest to interact with some others like himself and learn more.