"I didn't have enough coffee for this"
Willow Marie Castle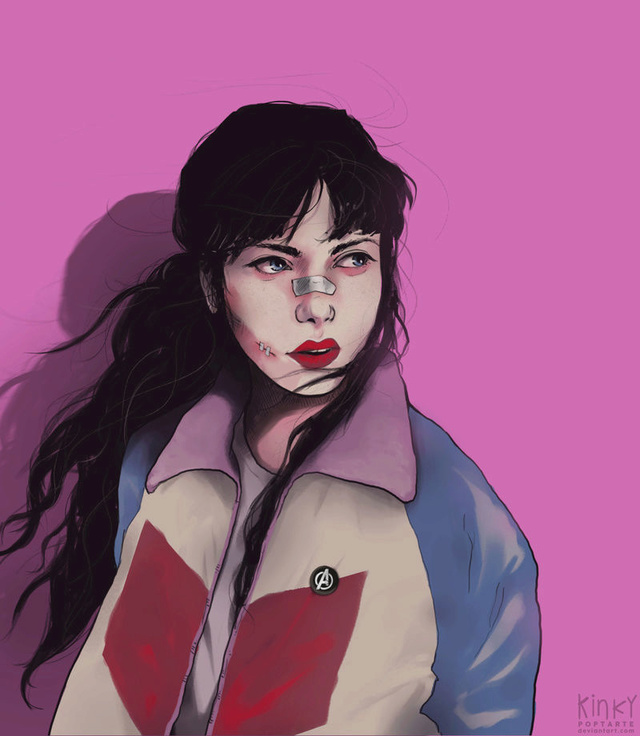 Spoiler:
«««IDENTITY»»»
Full Name:
Willow Marie Castle
Nickname(s):
Will or Spidey
Codename:
Spider Girl
Alias(es):
Spandex, Web Head, or Web Slinger
Age:
17
Race:
Augmented Human
Alignment:
Chaotic Good Leaning towards Neutral.
«««PHYSICAL DESCRIPTION»»»
Hair Color:
Black
Eye Color:
Blue
Gender:
Female
Height:
5'5
Weight:
120 pounds
Other Traits:
Constantly gaining bruises and cuts on her body.
«««SKILL SET»»»
Powers
Spider Physiology
- Enhanced Reflexes
With her spiders abilities, Willow has the ability to dodge a throwing knife with ease (Something up to 60 mph).
-Enhanced Balance
Due to the enhanced physiology, Willow has complete control over her equilibrium which essentially gives her the ability to always land on her feet. She's amazing at balancing.  
- Enhanced Stamina
With these powers, Willow can fight, run, swing, and plus some for up to an hour without getting tired. Anythinaffects that effects her performance.
Spider Senses
-Spider Sight
With her spider senses, Willow is able to see up to a mile away without any problems.
-Enhanced Hearing
With her spider senses, Willow is able to hear a pin drop within a 300 ft radius around her.
-Night Vision
With her spider senses, Willow can see perfectly fine in the dark. However, she can only see 100 feet ahead of her instead of a mile.
Spider Powers
Willow has the ability to create spider webs with her wrists. These can go up to 500 feet away from her and go in ball or string form. They can hang at least 1 ton of weight before breaking, are water and ice proof, and after an hour of being out will turn to dust.
Anti-Webs
Just like shooting webs from her wrists, she also has the ability to remove all webs with her hands and only her hands. She has to touch the web to adjust it or move it.
-Sticking to surfaces
With these spider powers, Willow can also stick to and climb surfaces, wheto ther that be climb up walls, hanging upside down, etc.
Skills
-Expert Level Drummer
-Amazing Swimmer
-Highly Athletic/Acrobatic
-Great Sewing Skills
-She isn't that good of a fighter because she learns her moves from old kung fu movies.
-Knows sign language.
Physical Weaknesses
Fire
Despite her webs being water proof, they will melt completely when they come in battle with fire. Even using a lighter would be easier than breaking the webs with force.
Slick Surfaces
Willow cannot stick to slippery surfaces, whether that be because of some kind of slime or of soap and water, she won't be able to stick to it.
Sensory Overload
Even though her spider senses are great, they can be taken advantage of easily. If someone were to play a loud noise are flash something bright at her, she would be stunned for a lot longer for them to attack.
Human
Willow, despite her amazing abilities, is human. She can be shot, stabbed, poisoned, and killed just like anyone else.
Coffee Addiction
To put it plainly, Willow will go through withdrawals if she doesn't have AT LEAST 2 cups a day.
Mental Weaknesses
Coffee Addiction
Just like any other addiction, it messes with your brain. If she doesn't have her two cups of coffee she'll get fidgety, restless, and reckless.
Open to Mental Attacks
Willow is a young teenage girl, she's only had her powers for 6 months now and is just trying to do her best. She is very easily manipulated, especially if the person makes her think she's doing the right thing.
Equipment
Backpack with
-SmartPhone
-Costume
-Bobby Pins
-Band aids
-Sunglasses
Spider-Girl Costume
This costume is made out of regular spandex and the only thing special about it is that it's mask can come down to reveal her face, her gloves work on touch screen, and there's a hole for the webs on her wrist.
Spoiler:
«««CEREBRAL PROFILE»»»
Personality
Willow is super outgoing, witty, sarcastic, occasionally dead pan, and full of jokes. She thinks humor is her constant back up plan, even if she can be pretty horrible at telling jokes. Despite that, she is also infatuated with other heroes and even keeps news clippings of her favorite stories in her room, she is a huge Hero nerd!
When it comes down to it, Willow is still learning what it means to be good, all she is trying to do is her best with the powers she's been given. In her mind, doing the right thing is the most important thing to do, even if it means going against your friends. She values honesty over loyalty.
Likes
-Super Heroes, Justice, Coffee, puppies, pizza, carbs, snooping, and her cellphone.
Dislikes
-People who are nonchalant and don't take sides on issues, bystanders during arguments, people who put too much sugar in their coffee, pineapple on pizza, blue cheese dressing, rompers, mermaid dresses, hairspray, and bad wifi.
Habits/Hobbies
Loves collecting news clippings of her favorite heroes
-Always has coffee on hand
-Cannot leave the house without her cell phone
-Enjoys trying to solve mysterious way out of her league
«««PERSONAL BACKGROUND»»»
Family Members:
Ivy Sanderson (Aunt Ivy)
Place of Origin:
Manhattan, NYC
History
Willow grew up in Manhattan in the upper east side where both of her parents were scientists of sorts. She really had a generic good life, she went to private school to get a good education and had decent grades. Her parents just wanted her to do something she was passionate about, them having the appropriate funds to send her to any college she wished, as long as it was something educational. In the end they just wanted her to have the proper education so she could go far in life.
Her parents were doing research on how to bring out the Meta human gene in the regular human body, something that was a mystery for thousands of years. They had gotten close to something revolutionary, a scientific breakthrough that they were getting ready to release to the public that not even Willow knows about. Unfortunately, other people didn't want this breakthrough to happen, so they took the Castle's lives, leaving Willow another Orphan in Manhattan.
Willow's mom had a best friend that often visited and stayed with them as Willow grew up, she was her unofficial aunt that wasn't by blood. She took custody of Willow and they spent the next 3 years in her cramped apartment in the west side of Manhattan. It was a big change for Willow, especially since she was so emotionally disconnected from the fact that her parents were gone and she was now in public school. She wasn't legally allowed to get anything that her parents owned because of the government, something awful had happened to her parents and she wasn't getting answers. This began her love for sleuthing like her Aunt Ivy, she felt the thrill of trying to get into government property to dig through files about her parents.
Her Aunt caught wind of what she was doing and decided that Willow needed a fresh start, she transferred to a new office across the Country in Jump City California. Willow didn't want to leave at first, but she didn't have much of a choice at that point, so she reluctantly went.
To her luck, her parents sister lab was in California, STAR labs. She got a tour through a program her aunt thought she might find interesting where she had her first contact with a radioactive bug that changed her life forever. She didn't think much about the red bump until the next morning when she woke up and her vision was amazingly better. It only took her a day to realize what had happened to her and where she decided she was like the many other heroes she's read about, Jump City was a place for new starts and heroes.
It had only been a month since she's got to Jump City and she's already  dealt with petty thievery and muggers, getting the name "Spandex" in the news. Willow finally finished her new suit for her hero antics and wants to get her name out there as a cool hero, not some loser in spandex. Now all she has to do is survive her first day of her new school.