"I am the thing that goes bump in the night, I am the creature that haunts your nightmares, and I am the reason your ancestors clung desperately to the light of day. "




Malek Sinclair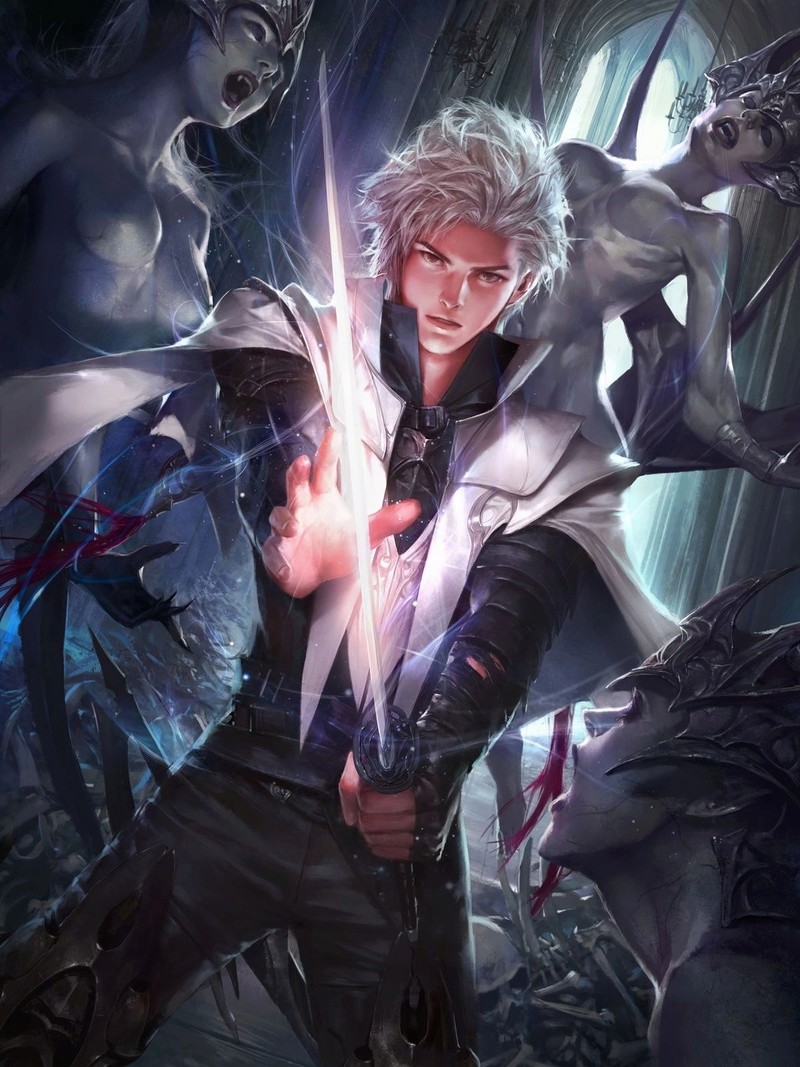 «««IDENTITY»»»


Full Name: Malek Sinclaire
Nickname(s): Mal
Codename: The Original
Alias(es): Count Sinclaire
Age: 2086
Race: Outsider - Vampire
Alignment: Lawful Evil
«««PHYSICAL DESCRIPTION»»»


Hair Color: Frost White
Eye Color: Lightning Yellow
Gender: Male
Height: 6'0
Weight: 191
Other Traits: When he smells blood or is about to bare his fangs, his eyes glow red and all his teeth shift into jagged piranha like fangs.
«««SKILL SET»»»


Supernatural Powers
Vampire Physiology - Malek is the original vampire and as such has a few capabilities that humans are incapable of :
1) Immortality - Malek is an original vampire. He is real life demon, cursed to walk this world consuming the blood of others. Hell nor Heaven or any afterlife will have him. He cannot be permanently killed by normal means of violence, sickness, or aging. If he is slain he will die for an hour or two, depending on severity of injury, and will be completely healed when he awakens from his death. If disintegrated or chopped to pieces, whatever ashes or particles are left will birth a new body for him, similar to the rise of a phoenix, whenever his body is able to reform, weeks, days, years, etc. later. Any injury he sustains heals at a normal rate unless he dies or drinks blood.

2) Heightened Hearing - Malek can hear a heart beat from over 360 feet away. He can discern different sounds and can utilize a form of echo-location in the dark.
3) Stealth - Malek can move so quietly that he seems to appear and disappear. He can walk into shadows and seem to have disappeared into them and vice versa or he can sneak up on someone without them noticing he's there until he's within a few feet of them. He however cannot sneak around beings with heightened senses or avoid detection of machines, alarms, etc. This stealth ability also only works if the individual wasn't expecting it or is briefly distracted when he is moving towards or away from them. 
 Blood Drinking; Malek's fangs allow him to drink the nutrients from the blood of his prey which immediately enhances his physical abilities for 2-4 hours (depending on how much he drank), similar to human beings drinking pre-workout or taking steroids/adrenaline. Just a drop of blood is enough to keep him alive for weeks but drinking 8 glasses or more will significantly increase his speed, strength, and stamina to super-human levels. When he's had 5 pints or more he can move at 80 mph but will be out of breath after a 100 yard dash, lift 2 tons briefly with concentrated effort, and is durable enough to take a 1000 lb hit with no damage (not including piercing attacks). If he has drank anywhere under that amount in blood, say just a glass for example, he can lift 1000 lbs effortlessly, run at 50 mph but run low on stamina after a mile, and take the brunt force of 675 lbs of force with some damage. Without consuming any blood he is as durable or as strong as a general Olympic competitor.

When drinking blood, the longer/more he drinks the more his injuries heal. Simple injuries are cured instantly such as a cut but deep gashes and broken ligaments can take up to four minutes to reset or close up.
Mental Manipulation; Vampires can mentally intimidate their prey via eye contact. Malek can cast minor illusions in the minds of others such as making himself appear like a monster, surrounding himself with bats, etc. Making himself appear as an invisible man in clothes to anyone trying to take a picture of him, etc. Illusions can be seen by anyone looking directly at him after making eye contact. His illusions are limited to himself and do not physically affect himself nor the individual seeing them.
> Fear - Malek can induce fear into any creature that makes eye contact with him. He incites the primal part of the brain that induces the prey vs predator instinct, in which case he is the predator. 
> Compulsion -  Malek can compel the weak-minded (NPCS) into one simple suggestion, such as walk down the street or open the door, via verbally speaking to them while making eye contact. He can only do this to one person at a time via directly speaking to them. This puts the individual in a brief trance, like a rodent facing a cobra. The trance is broken after the task is completed and the individual is aware they were compelled but doesn't know why they listened to him. 
Skills
-Swordplay; Is decently skilled with a long sword and short blade.
- Multi-lingual; Has spoken many languages over the millenniums.
- Acrobatic; Is very nimble on his feet.
- Expert in the arcane; Is versed in magic and mythology, although he can't practice it being a Vampire and not a witch. 
- Skilled Aid; Is a skilled butler/gentleman. He has practiced the art of upper-class, dining, dancing, and posturing for centuries.
- Strategist; He has been a soldier, a general, and a warrior in multiple lifetimes and is well aware of what factors are causes for horrific defeat and glorious victory
-Historian; He knew many of histories greatest men and ate some of them.
Physical Weaknesses
Curse of the sun - Will catch on fire in the light of day without protection of his magical ring (bare skin burns if UV rays shine directly on him)
Starvation - Just a drop of blood can sustain him for weeks but if imprisoned and starved of blood he will suffer all the same impediments of a human being until he withers up and dies.
Power Limit - Although he is an original Vampire, this actually makes him weaker than younger Vampires. Although he does not physically age his abilities do. Drinking blood is not as effective as it once was for Malek. Thousands of years ago at the height of his strength Malek could move in the instant of an eye twitch, lay waste to entire armies, and transform into a bat creature. Now after living for multiple lifetimes he has dulled to his current state and minimal capabilities. 
Mystical Items - Items made specifically to end the lives of immortal creatures, magical or otherwise will end his life permanently. He will cease to exist and crumble to ash if one of these items were thrust into his heart or were to lop off his head and/or destroy his person.
Self-Sustenance - Cannot drink his own blood. 
NoMag - Cannot utilize magic or speak spells, although he is a magical being.
Bigger Fish - Cannot make a natural predator higher than him on the food chain feel fear, such as a hybrid or demon.
Must be invited inside - He cannot enter a residence with all exits closed and locked without being formally invited by someone.
Mental Weaknesses
- Reliance on Immortality - He will walk into harms way with the mindset that he cannot be killed. 
- Self- Righteous - He often will speak to those who challenge him from a position of hierarchy, since he is the original monster that terrorized the 17th century.
Weakness - He is aware his powers are waning in his old age and is suffering from an inferiority complex of his old self, which comes out when in combat with someone possessing more power than himself.
- Can only compel the weak-minded (NPCs) - (Compulsion does not work on Created Characters, it only works on NPCs) Compulsion does not work on strong willed or mentally capable individuals. Anyone who can realize their mind is being tampered with via telepathy, being super smart, pheromones, magic, etc. 
Equipment
Daylight Ring - This is a magic ring, forged by a witch, that provides a barrier from UV rays touching his skin. Removing it will cause him to burst into flames in the sun.
Longsword - long sword dipped in holy water
Dracula's Tooth - the tooth of one of his strongest kin, forged into a stake made to kill Vampires and other creatures.
«««CEREBRAL PROFILE»»»


Personality
Malek is the Original Vampire and he knows it. He speaks with a manner of confidence and at times self-righteousness. He does not respond well to threats or being talked down to. He is very gentlemanly, and tends to not gravitate towards attention unless he feels it necessary. He considers himself evil but a necessary evil. He loves order and ladder of hierarchy but not when he's at the bottom of it. Malek is cautious and makes plans before he enters battle, rarely does he engage into anything prematurely or without information and preparation.
Likes
-A good fray
-Order
-Tidiness
-Gentlemen & Ladies
-A good ballroom dance
-People respecting his name
Dislikes
-Fools
-Young vampires
-Other predators
-Unnecessary violence
-Insolence
-Wasted blood
Habits/Hobbies
- He reads mythology, iliads, fabled tales, and the daily news paper as well as novels.
-Practices his swordplay
-Aerobics yoga
-Loves cleaning
-Attends local plays
«««PERSONAL BACKGROUND»»»


Family Members:  Count Dracula (heir)
Place of Origin: ???
History
Malek Sinclair was born over a millennium ago in a village plagued by death and creatures called Werewolves. Werewolves; ancient creatures that terrorized villages once a month on a full moon. They ripped apart and destroyed anyone and anything they saw. On the eve of a full moon Malek begged his shaman to give him the power to defeat the monsters that ruled over his village once a month. The shaman promised him power but with great cost. Malek agreed to the arrangement, eager to defend his homeland.

To receive the power he sought Malek drank the blood of the shaman and a bat during a dark magic seance. His transformation into the creature that followed was gruesome and painful but by the morning he had the power he sought for and a thirst that never ended. He was the first of a new kind of demon on Earth.

A full night had passed and the wolves had already come and gone. He couldn't even remember what he did that fateful night but the shaman laid on the ground beside him as nothing but a dried husk when he awoke from the ritual. His village had been left destroyed by the wolves and Malek found that sunlight burnt his skin when he tried to leave the safety of the shade. The curse was a high price indeed, he was forever bound to cling to night time and could only exact his vengeance on the wolves during the guidance of the moon. Another thing he found during his hunts was that he could not die and that drinking the blood of his enemies gave him immeasurable strength.

Centuries passed, Malek made allies and more enemies than he could count, and vanquished friend and foe a like. He received a daylight ring, which protected him from the sun's rays, from a witch and began to roam the world during the day. During his travels he laid waste to armies, experienced sensations people could not have achieved in three lifetimes, and created more of his kind in his own image. But now he finds himself drawn to Jump City, in search of  a ... rush of some sorts. Something to remind the Original Vampire what he once was.