"From now on I must live and think for myself..."
Beatrise Vivien Utonium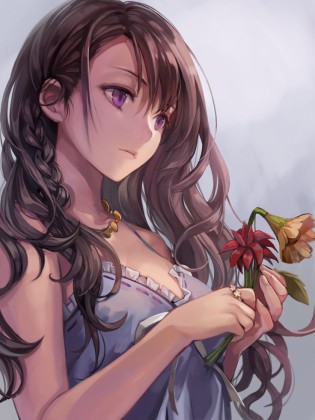 «««IDENTITY»»»
Full Name:
Beatrise Vivien Utonium
Nickname(s):
Bea, Vi-vi
Codename:
Spice
Alias(es):
Banana Utonium
Age:
21
Race:
Meta-Human
Alignment:
Lawful Good
«««PHYSICAL DESCRIPTION»»»
Hair Color:
Brunette
Eye Color:
Violet (but with brown contacts)
Gender:
Female
Height:
5'11
Weight:
157 lbs
Other Traits:
N/A
«««SKILL SET»»»
Powers
Psionics: Beatrise can lift objects (max 2 tons) and throw them (40mph for small things 25mph the closer to 2 tons it is), the range of this is 11ft.
Sub 1- Flight: Using her psionics to lift herself up, Beatrise can give herself the ability to fly up to a speed of 70mph and to a height of 30ft.
Sub 2- Force-Field Generation: Can create a force field around herself and allies to a radius of 15ft. Solids and energy cannot come in or out of it (gasses and liquids can), although it can be broken by 5 tons or more of force, in one use (if something weighs 3 tons, then it can only take another 2 tons after that).
Increased lung capacity: Beatrise is able to breathe in 10 litres of air, allowing her to stay submurged underwater for an extended period of time to that of a human.
Sub 1- Fire Breath: Beatrise can exhale fire from her lungs, to the point where she uses up all 10 litres of air in her lungs, the fire she exhales can be a max of 1510 °C. Speed of 10mph at a max range of 8ft.
Sub 2- Ice Breath: Beatrise can also exhale an icy mist from her lungs, causing anything in her path to become cold or even freeze, the icy mist she exhales has a max temp of -125 °C and will hurt to be hit by, extended exposure can cause serious damage. Speed of 10mph at a max range of 8ft.
For these powers she only really has resistance around the areas of contact (throat, lips, etc) but she can't use them too frequently as the resistance breaks down.
Enhanced Durability: Beatrise has resistance against small arms fire.
Skills
- Cooking
- Playing the guitar, piano and flute.
- Can whistle.
- Various combat techniques (judo, kung-fu and krav maga) she is master of none of these, just knowledgeable and skilled at them.
-Smart.
-Photographic memory.
-Can use sign language.
Physical Weaknesses
-Due to her body being made of chemical compounds, corrosive chemicals can weaken her powers, to the point of stopping her from lifting herself for flight for example.
-Since magic didn't really exist in her original world, she has no resistance or knowledge about magic or how it works in this universe.
Mental Weaknesses
-Seeing her own blood: When Beatrise sees her own blood she becomes a little feint and dizzy, since again, the world she "grew up" in, didn't have such things.
-Gritty violence: Again, since she's from a world that doesn't have that, she's not use to seeing horrible things, and so upon seeing such things, she will become shaken and try to run away or hide, in some cases even start crying.
Equipment
-N/A
«««CEREBRAL PROFILE»»»
Personality
Beatrise was created to be the perfect older sister, and thus acts like how you would think, she enjoys spending time with her family and making sure that they're okay, she keeps a healthy physique by regularly exercising and has a mature outlook on life. She is very responsible and is usually very calm and relaxed. She also has a playful side, and tries to be as positive as she can everyday, this was at least until she got transported to another world.
Since appearing in this new world, Beatrise has had to adapt to the new dangers and new worries that the new world brings, changing her name, although keeping her surname for sentimental reasons, she keeps trying her best to stay positive, although it's difficult when she's all alone, but using her intelligence to keep her calm and put her priorities in the right order, she's been able to survive, she also now wears regular clothes as oppose to her violet dress, knee-high socks and Mary Jane shoes.
In general, it's been hard for her to adapt, since she is no longer able to protect her sisters, she is trying to find a new purpose in life, she is slowly gaining her own personality, changing from the one she was given, although she still has certain values that she keeps, knowing right from wrong and doing what's right.
Likes
-Her family.
-Those who help others.
-Kindness.
-Generosity.
-Helping others.
-Shades of violet.
-Video games.
-Cooking.
-Cleaning.
-Disco music.
-Learning new things.
Dislikes
-Crime.
-Villains.
-The thought of being unable to protect her family.
-The fact that she's lost and doesn't know how to get home.
Habits/Hobbies
-Reading books.
-Playing video games.
-Making art.
-Playing music.
«««PERSONAL BACKGROUND»»»
Family Members:
-Professor Utonium: Creator/father (alive?)
-Blossom Utonium: Sister (alive?)
-Bubbles Utonium: Sister (alive?)
-Buttercup Utonium: Sister (alive?)
Place of Origin:
The City of Townsville
History
Created for the soul purpose to protect her younger sisters, Banana Utonium was given powers and personality attributes to make her the perfect older sister. Made in a similar way to her sisters, yet, a perfected formula, Professor Utonium had perfected the formula to create life from a cauldron. Upon her creation Banana did everything a big sister should, she cared for her younger sisters and helped the professor, her father, with his work. She did the housework, cooking, cleaning, picked up her sisters from kindergarten, read them bedtime stories, she made sure her sisters were happy. While her sisters were out fighting crime, she would wait for them to return, with hot chocolate and cuddles waiting for them when they got home. Not to say she couldn't fight herself, but she was the "emergency backup" if the girls ever got into a situation that they couldn't handle. But so far, everything seemed peachy keen, until that one day...
Banana had just finished putting the clothes out to dry while the girls were at kindergarten, the Professor was in his lab under the house as usual, and Banana was about to head inside with the empty wash basket.
Suddenly, a dark, foreboding laughter filled the air, one that could only belong to a certain demonic looking being "well well, isn't this perfect, big sister all on her own, this will be easier than I thought" said Him in his deep, scary voice. Banana turned around and growled "what are you doing here Him! Go bully someone else!" she yelled as he descended on a menacing dark cloud, his pink feather boa draped around his neck "oh but my dear, I'm not here to bully, I'M HERE TO DESTROY" he yelled before lashing out a claw to Banana which she dodged.
"You see, I've figured out, that if you're out of the equation, that'll give me a chance to truly destroy the Power Puff Girls" said Him with a menacing grin "well you've already failed Him! I won't be destroyed by you! And I won't ever leave my sisters!" she said before shooting some laser eye beams at him, the two would fight as Banana took it away from the house and away from any innocents. Banana fought to the best of her abilities, but Him had a hidden trick up his sleeve, and opened a strange portal "ooooh I was hoping that I'd get to use this, perhaps this is better than simply destroying you, don't try to resist" he said as the tired Banana tried to fly away, but the portal would suck her in, closing up once she was lost inside. Him would triumphantly laugh, as one obstacle had been taken care of.
Banana was transported through time and space to another dimension, when she awoke things were much different, things, colours, people, everything looked different to the "cartoon" world that she had been living in. The weakened Banana felt different too, as if some of her powers had been taken away, everything was weird, but she knew she had to get accustomed to this world if she was to ever get home.