"Yes the tails are real, yes you can touch them"
Nina Vulpes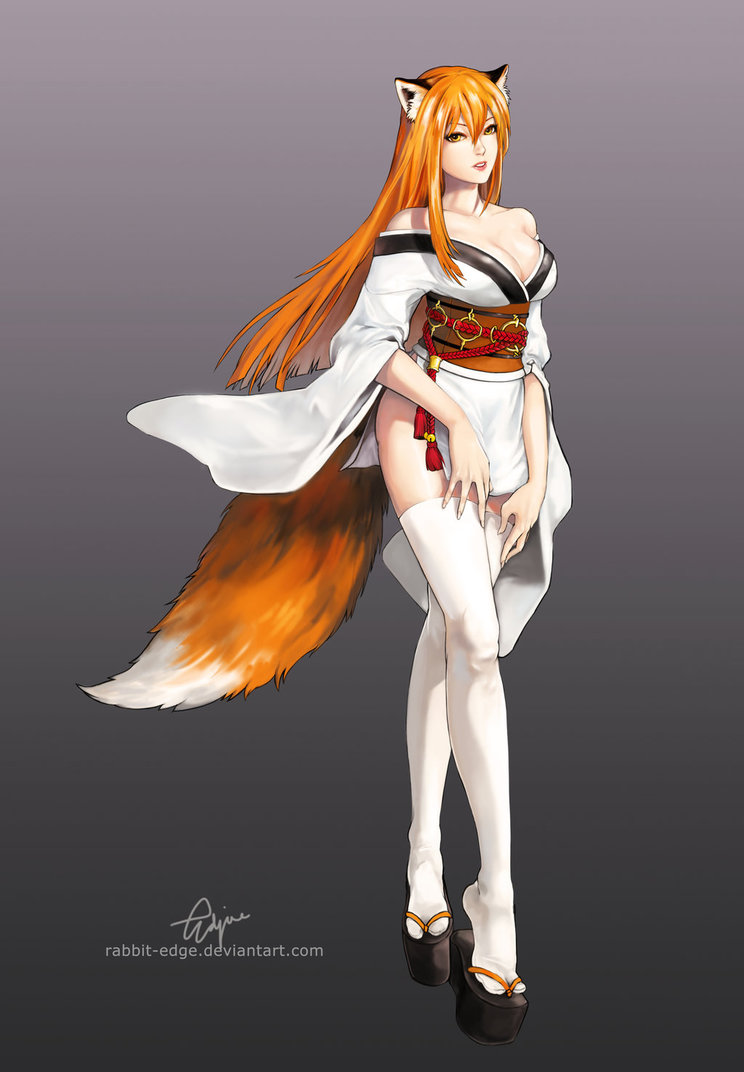 «««IDENTITY»»»
Full Name:
Nina Vulpes
Nickname(s):
Ni-ni, Tails, Foxy
Codename:
Tēru
Alias(es):
N/A
Age:
24
Race:
Outsider - Kitsune
Alignment:
Neutral Good
«««PHYSICAL DESCRIPTION»»»
Hair Color:
Reddish-orange
Eye Color:
Yellow
Gender:
Female
Height:
5'8
Weight:
161 lbs
Other Traits:
-The option to show up to 5 fluffy fox tails and 2 fluffy fox ears.
-3 feint whisker marks on each cheek.
«««SKILL SET»»»
Powers
-Physiology:


Shapeshift Animal: Can become a fox at will, normal fox with nothing special, the only power that she can use in this form is her clones, usually she can still talk in this form unless completely drained of her magic.

Being a kitsune, and thus messenger of the god Inari, she is blessed and thus cannot be touched by demons without the demons being harmed.

Shapeshift Human: Can change her shape into that of any human, as long as she's seen them (whether that be in real life, magazine, on the internet, even animes and mangas, although she would become a realistic version of that character). She can only become humanoid shaped beings with this, she wouldn't be able to become a giant alien lobster for example.

(Power 1) -Kitsune Magic:


Fox Fire: Can create purple fire spell that burns like regular fire (582°C), can create them from her tails or her hands. It can be doused like regular fire.

Clones: Can create up to a maximum of five clones (making 6 Ninas in total). These clones will poof after a strong magical attack. Using all five clones for a very long time will make Nina exhausted. Only magic can make them poof as well as anything that would kill Nina, but they cannot use Nina's other powers. Nina's fox form can use this power.

(Power 2) -Magic Seals: Can create magical seals out of thin air and use them for a variety of things, from practical things like making a room silent, to making small explosions. The seals include;


Practical, non-combat uses.

A small explosion (max of a regular cherry bomb)

Illusions (making fake walls appear and such, these can be dispelled with strong magic attacks.) The walls are nonphysical and both sides are opaque.

Create trap area (stepping on one to activate a magical cage). Can be broken by super human attacks and/or magic. (This is the "default" with more traps pending thread approval by those involved for plot.)

Skills
-Lockpicking (key & mechanical locks).
-Stealth (foil most alarm systems. Exceptions being ultra levels of security).
-Gymnast level agility.
-Can drive.
-Can cook well.
Physical Weaknesses
-Anti-magic things/things that drain magic will revert Nina to her fox form, retaining her intelligence but cannot talk.
-Human levels of toughness.
Mental Weaknesses
-Family is a strong area for her and she will defend and protect her family and friends like a guard dog, no-matter the danger.
-She can be a little too confident in herself at times, that people love her and that she can get things done.
Equipment
-A Shinto symbol necklace is visible over the top edge of her shirt, it has the kanji 稲荷大神 written on the top bar and on the lower bar the name Inari Ōkami is written.
-Lockpicking gear.
«««CEREBRAL PROFILE»»»
Personality
Nina is cool, calm and relaxed in most situations. Only when her loved ones or herself are threatened does she show her claws. She's charismatic and fun-loving and is the type of person who you can become friends with easily. She's casual most of the time and has a "cool older sister" kinda aura to her, someone who won't nag you but she still cares and has her special way of taking care of you, sometimes you might not even notice it. She loves having guests over, as her childhood was always filled with noise and family, she loves cooking for her family and friends and playing hostess, although she can also appreciate it when she has some time to herself and watch some black and white monster movies in the dark of her bedroom.
Because of her charismatic presence at her shop, she has many fanboys who give her gifts in the hopes of winning her affection, even though she has no interest in them, she's able to let them down easy, and help them with tips about dating if they need it. She is also the type to listen and help with any problems you might have, no-matter what it is.
Likes
-Video Games.
-Manga & Anime.
-Her family & friends.
-Hot baths.
-Walks on the beach.
-Various rock, traditional Japanese and J-pop music (and anything in between).
-Classic monster movies.
Dislikes
-Slight lactose intolerance but it doesn't bother her too much.
-People who want to disrupt her shop.
-Bullies.
-People who waste her time.
Habits/Hobbies
-Working at her shop
-Cooking
-Playing hostess
-Drawing
«««PERSONAL BACKGROUND»»»
Family Members:
-Kiki (Mother)
-About 5 aunts and 11 cousins (none blood related)
Place of Origin:
England
History
Born and raised in an underground den of kitsunes, Nina would often go exploring, born with an innate wanderlust, she loved exploring the forest and playing pranks on her fellow kitsune who she considered family.
Nina was home schooled by her mother in all the things that a young girl should know, how to speak Japanese, magic, proper etiquette, how to charm men, the usual stuff.  Her childhood would also involve running away from fox hunts while in her fox form as her and other kitsune tried to scavenge for food as foxes.
Once Nina was sixteen, she decided to leave home, her wanderlust craving for a change of scenery. She packed up her bags, said goodbye to her mother, and left for America. Staying to the shadows as a fox, living in the streets and observing human life for a few years.
Once she was ready, she came out of the shadows and began to contribute to Jump City society. Working at a comic book shop for an old man, handing out fliers and generally keeping the shop clean, simple, menial work. Having thought she was a cosplayer at first, the man was in dire need of customers, and who better to draw attention than a sexy looking fox girl. She soon revealed herself as the genuine article and she and the man became friends.
Eventually, the old man decided to retire with his family and Nina was given the store. Working hard day and night, she soon had enough money to add a living area on-top of the store as well as make some improvements to it. Now allowing the shop to sell manga, anime, trading cards, D&D related things and even various Japanese treats, sent via her grandmother in Japan. She had also added a game room in order to host events for customers. It was a paradise for nerds everywhere, a haven, and a sanctuary for some, the fact that she was a sexy fox lady probably also helped. Nina had become a decent businesswoman in the few years since leaving home, as well as the occasional cat burglar (stealing from various places and selling to the black market to help fund her business).
And this is where we join Nina, a thriving comic shop called Kitsune Comics, living a decent and relaxed life with her army of fanboys.