"I am the Prince of Tamaran; you will leave these innocents be."
Alond'r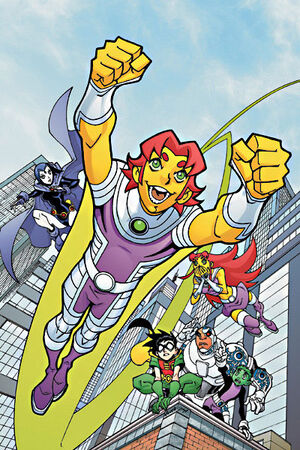 «««IDENTITY»»»
Full Name:
Alond'r.
Nickname(s):
N/A.
Codename:
Wildfire.
Alias(es):
N/A.
Age:
16.
Race:
Tamaranean.
Alignment:
Neutral Good.
«««PHYSICAL DESCRIPTION»»»
Hair Color:
Red.
Eye Color:
Green.
Gender:
Male.
Height:
6'0".
Weight:
167 lbs.
Other Traits:
N/A.
«««SKILL SET»»»
Powers
Tamaranean Physiology
- As a Tamaranean, his body naturally absorbs ultraviolet radiation and converts it into energy for him to utilize.
Starbolts
- After being subjected to experimentation by the Psions, Alond'r grew capable of expelling beams from his eyes and emitting formed-spheres of concentrated super-heated energy around his hands.
Superhuman Strength
- His alien physiology allows him to lift up to one and a half ton, at most.
Flight
- Alond'r is able to fly without any foreign assistance, capable of moving at speeds up to 100 miles per hour.
Superhuman Stamina
- As his body is constantly absorbing ultraviolet radiation from Earth's sun, Alond'r is able to perform strenuous tasks for several hours before it begins to take an effect on him.
Superhuman Endurance
- Alond'r is able to survive against most physical harm, usually only vulnerable to weapons specifically made to kill aliens, or those who are on his level of power.
Eye Beams
- Alond'r is capable of shooting concentrated super-heated energy from his eyes.
Language Assimilation
- As a Tamaranean, Alond'r is able to learn another language through kissing another being.
Cold/Heat Immunity
- A Tamaranean's body is immune to the effects of the heat and cold, as they are able to even survive in the vacuum of space.
Skills
- Alond'r is very advanced in hand-to-hand combat, having been trained whilst he was on Tamaran.
Physical Weaknesses
Damage
: Alond'r can be severely damaged through enough powerful force, or by another being at his power level, or superior.
Pure Crypt
: Pure Crypt is a rare crystal which naturally emits waves harmful to his nervous system. It is able to be found deep under Earth's surface, or floating around in the depths of space. When in the presence of it, it strips him of his abilities, and gradually weakens him. Only if he gets away will he become better, and will his abilities return.
Metallic Chromium
: Like many Tamaraneans, Alond'r is allergic to metallic chromium. When around the metal, he will usually possess influenza-like symptoms, and sneeze explosive starbolts from his nose and mouth.
Self
: Alond'r is not immune to his own blasts of energy.
Mental Weaknesses
Naivity
: Because Alond'r has not been on Earth for very long, he is unexperienced with its culture and can be taken advantage of without having any knowledge of it.
Stubborn
: At times, Alond'r can be stubborn. This would appear in certain situations, such as if he was abandoning orders to try and rescue those in need.
Equipment
Royal Tamaranean armor.
«««CEREBRAL PROFILE»»»
Personality
Alond'r has a reserved composure. Since his recent arrival to Earth, he has been keeping to himself, and simply observing the humans who inhabit the planet. Around those who he does not know, he prefers to remain to himself, but when he is around people who he is close with, he reveals more of his true personality. Underneath all of his reservation is a lost prince, who desires to find his family. Those who grow close to him will be on his mind, for he will strive to protect them. As a prince, loyalty is important to him, so he does his best to maintain loyalty with those who he knows. However he is still a teenager, so hormones can affect his mood on a daily basis. He believes in protecting the innocents, and will stray away from even a superior's orders to do so. Overall, he is a good person at heart, but tends not to show any personality unless he's comfortable around certain people.
Likes
- Cotton candy.
- Justice.
- Training.
Dislikes
- Disloyalty.
- Betrayal.
- Malice.
- Bullies.
- Racism.
Habits/Hobbies
- Train.
- Explore Jump City.
- Learn more about the human culture on Earth.
«««PERSONAL BACKGROUND»»»
Family Members:
Auriand'r (Sister), Ariond'r (Sister), Gorgon (Adoptive Father), Erland'r (Biological Father), Nuand'r (Mother).
Place of Origin:
Tamaran.
History
Alond'r was born into royalty on the lush planet called Tamaran, the youngest of the family. He grew up being trained by the best combat instructors, as well as being involved within the most efficient educational programs. As years passed by, he grew to the age of a child, and Tamaran was invaded by aliens known as the Gordanians.  When the threat of the invasion grew bigger, Alond'r was secretly sent to an unknown sector to preserve the royal line. There, he'd landed on a planet to where the beings were already aware of his incoming presence, as well as the situation back on Tamaran. He spent several years on that planet, further learning more culture about different planets as well as continuing his training.
When he reached the age of sixteen, Alond'r sneaked off of the planet and traveled to space until he reached a new planet. One which was inhabited by beings who'd advanced technologically and medically, to create a better civilization. There is still hope within him that he will find his sisters one day, and the royal family will be reunited once more. But until then, he would survive on his own, and thrive on a new planet.