Johnathan Grim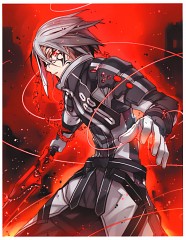 ===IDENTITY===
Full Name:
Johnathan Grim
Nickname(s):
Grimmy, the creepy one
Codename:
Brother Grimm
Alias(es):
The Grim, Lord of the Grimm, The grim reaper, Van Hellsing, The dark fairy
Age:
physically:16 Mentally: unknown
Classification:
 Changeling
Affiliation:
 Lawful good
===PHYSICAL DESCRIPTION===
Hair Color:
silver
Eye Color:
black unless the grim is released then his eyes are red
Gender
male
Height:
6ft
Weight:
150 lb with out armor. With armor around 250lb.
Other Traits:
wears a blood red like cloack over his hero cothes and armor. When the grim is active his tattoo around his eye glows red.
===POWERS===
Powers:
Magic:Changed at birth to be the will of the grim Johnathan  has magic flowing through his veins. When casting a spell a glyph appears on what ever surface he is using it on or in the air in front of his hand or weapon if it is attack spell they are always black during prep and turn a dark crimson when set off.
Glyphs:
The grim: A side effect of becoming a changeling his shadow is now permanently a living thing that is impossible to truly kill however it can be dispelled by slicing off its head or stabbing it in the heart. if dispelled it will return back to Johnathan's side as nothing more then a strange looking shadow for the next 24 hours. Also if Johnathan is knocked out is returned back to just being a shadow unable to aid his master. The grim feeds of the chaos of battle and will last as long as the battle rages but can not be summoned again for till 24 hours. it is in the shape of a the shape of a human like werewolf. its eyes are red and it is able to become three dimensional and attack separately from Johnathan in the forum of magical shadow energy that is channeled through its claws or its razor sharp claws themselves. The range of the shadow energy is the length of a foot ball field However it can not actually leave Johnathan's side.
When released the grim fuses with Johnathan and forums armor on its body.In the fused state Johnathan's weapons and armor disappear. Ability wise his magic is reduced to the shadow energy though he is now much faster and strong enough to pick up to 2 tons and can run up to 100mph for 3 post at max. His claws are hard as diamond and can tear though steel. Another drawback to this state is it's battle lust that it induces in Johnathan he will fight to destory anything in its path often times not being able to tell friend from foe though most times Johnathan can stop it from harming or killing anyone. Though for this reason this is a last resort for him and he can only stay in this state for five post before returning to normal and passing out. Note: the strength and speed are only available to Johnathan and the grim when fused neither can use either outside this state. (locked till 25 post poor control till 150 post then will be edited for control.)
shadow fourm:
Released state:
Spells:  
shield glyph:This glyph can be cast on Johnathan's arms to make a shield to protect him or others this glyph can get as big as 15ft and placed on air to run on air five can be made at a time before one disappears and can stand up to 3 tons of pressure before it shatters. this glyph also has a trigger designed into  it that activates a built in gravitational feild to allow Johnathan to run any direction in the air or up walls with out falling back to earth. the shield is like a wall that moves with you as long as your enemy is on the other side of it however if he/she hops over the wall or is on the same side of it isn't very good of a shield.
Healing glyph: This glyph can speed up the healing process or reverse damage done by all but dark magic. though the damage taken depends on  the time needed to be in the glyph. 3 mins for minor wounds 6 mins for major wounds and 9 mins for life threating. (MY definition: Minor: cuts that are deep that can cause bleeding to death if left untreated for a extended period of time though it would take most of a long fight before said blood loss caused this. Major: Broken bones some may punctured through the skin. Life threating: your heart has been ruptured you have been shot in the throat or you have had a limb cut off.)  
ice glyph: This glyph produces ice shards that are shot off like a canon or used to make a towering wall of ice anywhere with in 60ft of Johnathan[/color]. the ice vanishes once the glyph is gone or if it is destroyed wall state only last one post. the shards can be shot out six at a time and have a the speed of a bullet(1,700mph or 2,500ft per second) the shards can travel as far as a bullet can for so about a mile or 5,280 feet.
teleport glyph: This glyph pulls Jonathan into the shadow realm and deposits him in any location that he can see or knows well the max distance he can travel is 330 miles or the length of New York city.  This has a cool down of 3 minutes between jumps.
Skills:
hand to hand combat: While a useful skill Johnathan has chosen to not master this skill merely maintain it at it's current level.
Magic weapon repair: if it is magical in nature he can fix it or reforge it.
Magic forging: can use magical forging process tor create a weapon with a magical element to them weather it is allowing for a wielder of the weapon to channel their magic spells through the weapon or a element they control.
first aid skills: He is no specialist but he knows enough to rival a paramedic.
weapon combat master: Johnathan has lived many and learned many ways of combat epecially with weapons. 
Weaknesses:
Physically mortal: He is human he can die anyway a human can.
nth metal: it's anti magical metal he is magical this stuff hurts him and cuts of healing even in the healing glyph injured by it and he has to heal the old fashioned way.
not use to new body: every time he is reborn and awakened he has to retrain himself in his combat style.
All things light/holy: if it is light based or holy they work  almost as well a nth metal doubles healing times.
Chains of abadon:mystic gauntlets that held back a creature known as abadon they are slowly forcing Johnathan's magic against it's own nature they can randomly force his spells to fail or even back lash causing magical burn equivalent to a second degree burn if to much backlash accurs he could even die.
Equipment:
Twin enchanted scythes: Two scythes that have been enchanted the two have three forums.
first fourm: two hi-point cf380 acp pistols each hold ten bullets.
second fourm: scythes that are the length of his forearms the sycthes can channel magic and fire the rounds still.
third fourm: Full scythe mode the scythes also have a modified gravitational spell that allows him to use the scythe like a surfboard though it can only go as fast as 40 mph. Also they have been enchanted to not physically harm someone unless Johnathan wanted to. they phase through a person and make it un use able till the end of the thread if it would kill someone it makes them pass out.
two extra clips: Johnathan carries a extra clip for each scythe.
Journal: a leather bound journal that is always in a holster on his belt it holds information all things dark and monstrous.
twin daggers: keeps daggers in his boots as a hidden weapon to fight with.    
===PSYCHOLOGICAL PROFILE===
Personality:
Despite his grim attitude he is quite friendly with those he is close to. He can seem harsh when on a mission as he knows just how dangerous the world can be. He works well with others as he has lived multiple lives where he has to work with others and being part of the council of twelve. He enjoys writing and reading documents his encounters and lives. Johnathan enjoys the dark thanks to his grim heritage and tends to be up more at night. He  also holds honor above all things. Johnathan has a very dry wit and will always speak his mind in a calm manner. He rarely talks about his past lives and keeps to himself though unless he is approached.    
Strengths:
strong will: His will is strong built up from past lives and hunting monsters that want to take everything from him or want information on the rest of the council of twelve.
intelligent: intelligent from learning from masters of other races and  has enjoyed learning from his base race the humans.
resourceful:Cunning and great at coming up with plans with what he has even it is very little.
kindness:kind beyond belief.
Interests/Habits:
gardening: He likes to keep reddish black roses.
reading: is always reading mostly horror or books on the monsters that he fights.
writing: Always writing his current life and his past or a battle as it helps keep him sane.
===PERSONAL BACKGROUND===
Family Members:
Lily Grim nee fae(wife/eternally betrothed) Nathaniel Grimm(Many great times uncle/twin brother in past deceased/great great great grandson. ) jack hellsing (father in past life-dead) mimi Hellsing (mother in past life-dead) Maxwell grim (current father) jane grim (current mother) Susie grim (little sister)
Place of Origin:
jump city
History:
long ago back when man was a newborn race and barbaric in nature the other races decided  to help them. Though there where those that despised the idea of their leaders choice and continuly attacked and slaughtered entire human tribes. When all seemed lost the leaders of the twelve great races came up with a plan to save Mankind. They choose twelve children that had no one but themselves and took them. Each child was blessed by the race that took them in. These twelve where the first changlings.
They where trained for sixteen years by the race of magic and weapons. At the end of the sixteen years the twelve met eachother. This is where Johnathan met lily and fell in love with her. They where given the task of protecting of the last few tribes of man. Under their protection mankind flourished. Eventually mankind began to fight back on their own against the creatures of the night. However they hunted without discrimination killing other races even if  they had done nothing to the village.
This sparked a war between the humans,the other races, and those that fought with the changlings. Angered by the fact the changlings chose to remain neutral they cursed the twelve to forever be reborn to never know of the others and their powers sealed. This went on for centuries till the war ended with all sides nearly wiped out. A treaty was made fearing that the peace would be easily broken by either side the races gathered the twelve and returned their powers and memories and left the curse active to have the now named ccouncil of twelve be immortal in a way their memories of past life's tied to their weapons and most prized possesions.
This worked well through out the years and gave rise to several legends one being the grim reapers appearance came from when Jonathan was deathly ill and looked like a skeleton in lamp light. Another was the stories of the brothers Grimm tales when Johnathan was born a twin and his memory was split between the two of them. Another was the story of van hellsing it was during this time Johnathan started writing after his twin wrote down his memories and it helped keep his head straight.  
Sample rp:
Johnathan sighed as he walked through the museum of jump. Sticking to the back of his group for a school project only speaking when asked for his input on what wing they should look at next to decide what their project for school on. It was when they came to the newest exibit that something in him began to stir causing him to actually  pay attention and look at the exbit. It  is when hecame to a leather bbound journal that he stopped he read the inscription on the plague that explained that the journal belonged to van hellsing retelling his account of fighting Dracula on several accounts. It gave light that maybe the story that was dDracula was accually real.
Johnathan groaned and grabbed his head as centuries of memories filled his head and strange black glyph that was on the cover of His journal passed over him andchanged his black hair silver and his green eyes black. Armor covered his body and twin scythes appeared on his belt and a red cloak appeared over his body
Johnathan looked at his group and smiled a dark frightening smile before saying,  "I am only saying this once we are doing this wing as our project,  understood?" Getting a nod from the frightened students he smiled a less frightening smile and said, "Good, now someone go get a nurse I'm passing out now." Johnathan did just that.