***If you want to rp with Jenny just post below, look at the following to see some info on Jenny to see if you know anyone she does or would be running into her and to get a feel for her, so you know if she is someone you want to rp with or not.***
____________________________________________________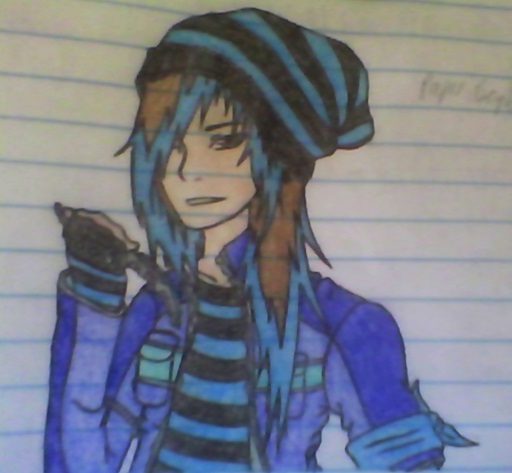 Stats
█ █ █ █ █ █ █ █ █ █___Strength 7
█ █ █ █ █ █ █ █ █ █___Stamina 6
█ █ █ █ █ █ █ █ █ █___Agility 5
█ █ █ █ █ █ █ █ █ █___Intelligence 8
█ █ █ █ █ █ █ █ █ █___Defense 5
█ █ █ █ █ █ █ █ █ █___Speed 5


0 = Scary weak

3 = Very low

5 = Average level for her size, age, Gender, humans, height, weight, etc.

8 = Very High

10 =Barely not op

____________________________________________________
Full Name: Jennifer Necowl
Nickname(s): Elf, Pixie, Monster, 14, Jenny, Jen, EnG, Shadow Knight, Energy Warrior
Codename: Energy Knight
Age: 18 years old  
Classification: Bio Engineered Alien Humanoid
Affiliation: Neutral Evil
Birthday: November 7th
Death Date: September 11th 2014
Rebirth Date: October 25th 2014
____________________________________________________
General Powers:  


Energy Projection

Healing (Self and Others)

Flight

Skills:


She can hack anything easily up the level of National Security and not get caught

She knows how to play guitar, violin, and sing

She knows basic stills on how to fight with swords, staffs, daggers, and hand to hand fighting

She knows how to be stealthy but is not too good at it

She has expert leadership skills

Jenny knows how to do handstands, dangle from her feet for long periods of time, flips, and do the splits.

How to drive and balance on motorcycles at near professional levels.

____________________________________________________
Hobbies:


Doing musical activities

Ride on her motorcycle

That's about it

Interests:


The many forms of Rock music and hides it but she also likes classical music

Performing on stage and playing guitar/singing in general

Midevil times especially knights

Driving Motorcycles

Hanging out with friends

Bunnies

Sword Fighting

Job: N/A
Where to Find:


Music stores

Wandering around Jump and Jewel City

General Personality: She is usually kind but if you manage to annoy her or tick her off that will most likely change. She is protective of her loved ones and is always willing to help them out. She's also has a a very strong will power and can be quite goofy at times. Though when she fights she is very willing to kill others and can manage to do so with little to no remorse.
____________________________________________________
Relationships

■ Love __ ■ Complicated __ ■Respect __ ■ Friends __ ■ Neutral __ ■ Uneasy About __ ■ Dislike __ ■ Hate
A
Alexander Erickson / Manic
■ ■ ■ ■ ■ ■ ■ ■ ■ ■
Addison Lewis / Nightingale
■ ■ ■ ■ ■ ■ ■ ■ ■ ■
Angelus Mortis / Quinn
■ ■ ■ ■ ■ ■ ■ ■
Azrael Godfrey / Greed
■ ■ ■ ■ ■ ■ ■ ■ ■ ■
B
C
Chris Kendrick / Arachnikid
■ ■ ■ ■ ■ ■ ■ ■ ■ ■
Chuck Jones / Bioshock
■ ■ ■ ■ ■ ■ ■ ■ ■ ■
D
Dar Le Fray / The Pride / Pride
■ ■ ■ ■ ■ ■ ■ ■ ■ ■
E
F
G
H
Harmon Tesain / Hotwire
■ ■ ■ ■ ■ ■ ■ ■ ■ ■
Haruhi Momochi / Alleycat
■ ■ ■ ■ ■ ■ ■ ■ ■ ■
I
J
JaK Sage / Sage
■ ■ ■ ■ ■ ■ ■ ■ ■ ■
Jamie / Miss Magnificent
■ ■ ■ ■ ■ ■ ■ ■ ■ ■
K
Kale Salem / Brave
■ ■ ■ ■ ■ ■ ■ ■ ■ ■
Kane Landy / Kicker
■ ■ ■ ■ ■ ■ ■ ■
Keri Kay Pierce / Zuciya
■ ■ ■ ■ ■ ■ ■ ■ ■ ■
Khariel Ravenlock / Andras  
■ ■ ■ ■ ■ ■ ■ ■ ■ ■
Kristen Oppotune / Seraphim
■ ■ ■ ■ ■ ■ ■ ■ ■ ■
Kristoff Markarov / Zero
■ ■ ■ ■ ■ ■ ■ ■ ■ ■
L
Laura Nencine Wainwright / Flux
■ ■ ■ ■ ■ ■ ■ ■ ■ ■
Lilith X / Lust
■ ■ ■ ■ ■ ■ ■ ■ ■ ■
Locus "Kyte" Mora / Akunin / Tenshi / Wrath
■ ■ ■ ■ ■ ■ ■ ■ ■ ■
M
Malan'tai Kalin
■ ■ ■ ■ ■ ■ ■ ■ ■ ■
Melissa Seri Williams / Lute
■ ■ ■ ■ ■ ■ ■ ■ ■ ■
Metamorphi
■ ■ ■ ■ ■ ■ ■ ■ ■ ■
Milicondras Gendorytoonyfeel Feedecondro
■ ■ ■ ■ ■ ■ ■ ■ ■ ■
N
O
P
Priscilla
■ ■ ■ ■ ■ ■ ■ ■ ■ ■
Q
R
Rain Lynn Bow / Rainbow
■ ■ ■ ■ ■ ■ ■ ■ ■ ■
Ravain Alaiyan / Oculos Lux
■ ■ ■ ■ ■ ■ ■ ■ ■ ■
Reese Mitchell / Maverique
■ ■ ■ ■ ■ ■ ■ ■ ■ ■
Rhett Shanka / Alameth
■ ■ ■ ■ ■ ■ ■ ■ ■ ■
Ruin Fotcon / The Flip Side
■ ■ ■ ■ ■ ■ ■ ■ ■ ■
[/color]
S
Sheng Xi Feng / Pheonix
■ ■ ■ ■ ■ ■ ■ ■ ■ ■
Shivering Jemmy
■ ■ ■ ■ ■ ■ ■ ■ ■ ■
Suzuki Uchiha
■ ■ ■ ■ ■ ■ ■ ■ ■ ■
T
Toji Okami / Lighting Wolf
■ ■ ■ ■ ■ ■ ■ ■ ■ ■
U
V
W
X
Y
Yami Seigi / Fate Weaver
■ ■ ■ ■ ■ ■ ■ ■ ■ ■
Yang Xiaolong / Ranger
■ ■ ■ ■ ■ ■ ■ ■ ■ ■
Z
Zack Wylder / The Knight, Silent Night
■ ■ ■ ■ ■ ■ ■ ■ ■ ■
Jan 2015 Version 1: