Hello fellow members of the team Link. This thread is to post comments questions suggestions and customization requests about/for the teams communicator(s) This thread is also here to tell you how to work the latest version of the communicator. Note I said latest which does imply as the plot continues new and better versions of the communicators will be made and handed out, but like any newly formed thing we will start with version 1.0 as seen below.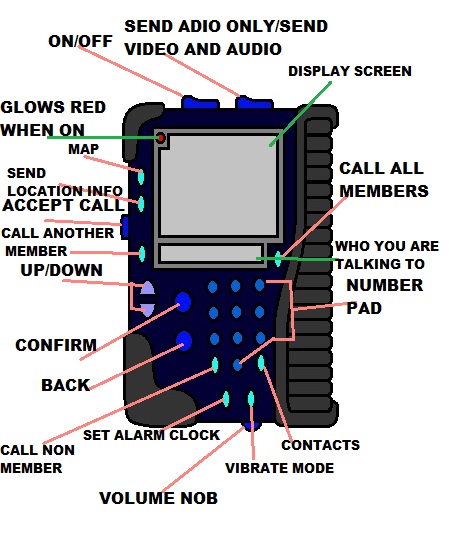 Current Member Communicator's

Energy Warrior's:
Zuciya's:
Jemmy's:
Maverique's:
Message below to request color changes suggestions and requests but do so in character because all said message's will be said that your character just called Jenny/Energy Warrior via communicator. The current changeable colors are:


Base color (shown dark blue above)

Oval buttons (shown cyan blue above)

Number pad (shown sky blue above)

Confirm and back buttons (show blue above)

Buttons on the sides (shown blue above)

The current issue has been water proofed but that is it for now on proofing things. It has gripping on the right side and pads on the corners to help protect it if dropped. This issue is as large as a common Android phone and is about a half an inch thick.
How to use/What is whatOn/Off:
Turns the device on and off.
Send audio/video:
This communicator has to option of you sharing with who ever you are talking to either a video of you currently and audio or just your audio which when showing only your audio it shows a basic picture of you.
Map:
When you click this button the communicator if having Wi Fi will look for the best map possible of your current location on the internet/what is currently on the communicator if it doesn't then what ever you have on the communicator is what you get.
Send location info:
When you send this it opens a screen where you scroll up and down picking who you want to receive this info and it sends a picture of what ever the built in camera sees, a map of your area with an X where you are, coordinates, and directions for them on how to get to you.
Accept call:
Click this to accept a call when someone calls you.
Call another member:
Click this to either change who you are talking to, add another to the call, or call any member when not talking to anyone.
Call all members:
Click this to call all the members.
Up/Down:
This is how you scroll up and down on the display screen.
Confirm/Back:
Click confirm to accept what ever you are on when scrolling and click back to back out of something on the display screen.
Number pad:
Use this to type numbers when given the option.
Call non member:
Use this to activate the cell phone option to call any other cell phone or device with a phone number and option to be called. Click confirm to call and back to hang up.
Contacts:
Click this to get a list of previously called non members/members and any contacts you personally have added while on this option screen.
Set alarm:
Click this then type in what ever time it is and when you need to be woken up, the communicator is in army time.
Vibrate mode:
Click on this to make the communicator vibrate rather than have the ringtone go off.
Volume nob:
Move it right to make it louder move it left to make it quieter.
Glows red:
The dot on the corner of the display screen glows red when the communicator is on. This is also where it takes video of your face when your show video is on.
Display screen:
Where everything shows up.
Who you are talking to:
The Communicators color ID.
Updates will be added and changed as they come. Info will be altered above then what the update included below so you know what to look for.
Current Updates (As of 9/4/2014):


Version 1.0 is made will allowed customization.

Name of team in info at the top and in the title