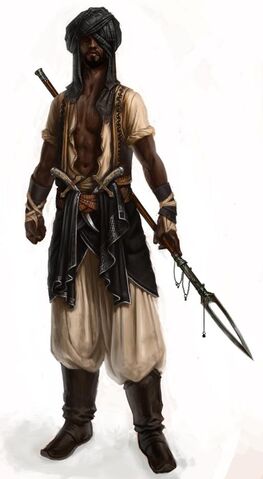 Gamertag:
Ravian
Alias:
Crow, The Raven, Blackbird
Real Name:
Cail Kine
Sex:
male
Age:
18
Height:
5'11"
Weight:
180
Affiliation:
Mapper, runner and Tracker
Nationality:
U.S.A
Other:
African american
Traits:
- Quick as the wind!
- Fast talker and thinker
-Finds aesthetics important when fighting.
-Is a risk taker
-Averse to fighting players, ever
-Always the first to get anywhere
Skills:
-Sprint!
-Tracking
-ONE-HANDED ASSAULT SPEARS
-Parry
Sword Arts:
- Dash strike: An extremely long and quick Dash forward with the spear leading the way. When used against an opponent it is a perfect guard break. It is triggered by raising the short spear above his head with the hilt facing the enemy and his body side ways. He then dashes forward and, upon meeting the target, brings the hilt down, breaking the opponents guard. Finally he brings the blade up and into his opponents abdomen. It is extremely strong against shields and blocking skills but can be averted by mid level parrying. He also uses this sword art for traveling purposes as it is faster than most sprints and can cover large swaths of land quickly. It can also be used to travel up or jump across large gaps.
- Lever action: Using both hands Ravian levers the handle upwards to deflect or jar any weapon in the way, he then spins around  and jabs from the same direction as the parry It is triggered by holding the short spear with both hands with the blade pointing upwards. Especially strong against heavy shields and two handed weapons.He usually only uses this when being attacked but he may use it to knock aside shields to large for his first sword art.
Equipment/Items:
One Short Spear. If you wantto be more specific it is an Iklwa
Personality:
Not really a team player unless he's gotten to know his team. Ravian takes risks on the daily. His job is mapping. He goes out and makes maps of dangerous or high level areas. Despite being a risktaker he will not enter boss rooms, only open them, he leaves boss battles to those suited for it. When it comes to monsters though, he can take high level ones out rather easily. During battle he dances around the battlefield, keeping himself moving and generally enjoying them. He prefers how things look over how effective they are.
He cannot resist a challenge, assuming it isn't something he'd usually charge for, and will race into trouble at a moments notice. When doing his job his strategy tends to simply be racing past anything that tries to block his way, or racing through it. He uses similar tactics during normal fights. He tries to position himself behind the enemy then use his dash sword art to deal damage. Against enemies that can't be out maneuvered he tries striking multiple times until they get up a guard or begin parrying and then using his sword arts to his advantage. He always hangs outside the doors of boss fights and always is one of the first to the important spots on new levels.
History:
He wasn't anything special before the incident. He was just some normal kid, a John Smith. HE was, however, pretty good at games. He mostly played first person shooters, but when SAO came up...he just had to take the challenge. It cost a lot of money but, from what he heard from beta-testers, it was worth it. When he first entered the game his only thought was that it was true. Then the news hit. The big news, it was a bit scary.
Though panicked a bit at first, Ravian has found his place in this world and revels in it. He discovered this his skill of speed when attacked outside of the safe zone by a few players. He didn't kill anyone of course, but he did give them a good run for their money before racing away. He now finds
SAO
extremely fun. He loves it and, borderline, finds it a blessing. This world is
better
than the old one. He even has the perfect set up to slow down the progress on the front lines, alter a few maps to lead them in a few circles, nothing anything too dangerous of course, but even that alone can slow down progress, every once in a while he may even send them to a monster just tough enough to do a bit of damage and turn the patrol around for a day.
He hasn't started using these tactics yet, but if they start getting close, he will. He also has started a new bit of business recently, tracking. He'll find anything for anyone, might even kill it if you want. Only catch is no catch...of course, if the rare item you wanted from the monster
doesn't drop
...well there aren't any refunds of course. He is now known around as Ravian "the Blackbird" because he always gets places quick and follows the straightest path possible no matter what is there. He goes 'as the crow flies'...he also has an eye for shiny things, much like a Raven. He'd only be known among adventurers, merchants and frontliners though. He gives high level players a discount, despite his opinion on this world, he would like to get out of here eventually, so helping them can't hurt.  He's well known among blacksmiths for his runs, hasn't last an item yet! No matter how rare it is, he'll run it to where ever you need for a price, half refund if it doesn't get there.