Theme song:
((OOC: orange=half breed mode Yellow=human mode Red=demon mode))
"Hello I am Milicondras Gendorytoonyfeel Feedecondro heir to the Feecon throne and you are?""Cheer up things could be worse you know."
"I'LL SKIN YOU ALIVE!"

Milicondras Gendorytoonyfeel Feedecondro
[size=18]Half Breed Form
Human Form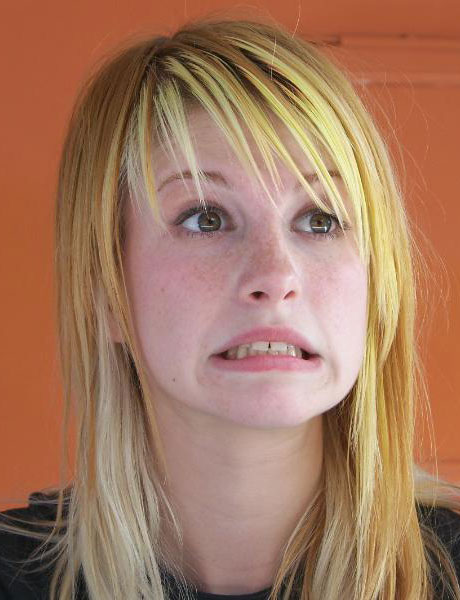 ===IDENTITY===
Full Name:
Milicondras (My-lee-con-dress) Gendorytoonyfeel (Gen-door-ee-toon-ee-feel) Feedecondro (fee-de-con-dr-oh)
Nickname(s):
Half breed trash, Miley Fencondro, Mili
Codename:
N/A
Age:
17
Classification:
Half Feecon/half Human (demons that control fire)
Affiliation:
Neutral
Birthday:
March 4th
===PHYSICAL DESCRIPTION===
Hair Color:
Yellow when human, Reddish Orange when Half breed
Eye Color:
green in both half breed and human modes, black when her demon side is talking through her
Height:
5'2"
Weight:
128lbs
Other Traits:
When in her half breed form she has a devil/demon tail but usually keeps it wrapped around her waist and hidden under her shirt, and flawless pale skin, when in this form her skin is a bit warmer than a normal persons skin. While in her human form she has a little less paler skin and a lot of freckles, while in this form her skin is a bit colder than a normal persons skin (can use tail like a monkey tail)
===POWERS===
Powers:
While in her human form Miley is able to do the following:
Ice Manipulation/Ice Projection: Miley can shoot ice from any limb on her body. The ice she produces is just a little colder than regular ice making it just a little harder too (-40 F). When she fires shard of ice they are just a little slower than a bullet and the shards sizes can range from an inch big to about 3 or 4 feet big.
While in her half breed form she can do the following:
Fire resistance: No amount of fire, lava, or heat can hurt or effect her
Fire projection/Fire Manipulation: Miley can shoot out fire from any limb on her body. The fire that comes out of Miley can melt steel (2500 F). Miley can shoot out fire up to about 2 mins straight. Large fire orbs can get up to 4 feet in diameter and regular fire balls are usually about a foot big but if she focuses really hard she can make a flame come out of one of her fingers and make it work like a blow torch. Her fire bolts and balls can travel about 50 mph. Her fire does not explode unless it comes in contact with exploitable things.
Both her forms only take about half the damage from hot or cold things.
Skills:
Basic Acrobatic skills, How to speak many Demon Languages, Survival skills
Weaknesses:
Separate forms: (She changes her forms automatically every 15-16 days) Her demon side speaks to her and some times through her, Her non in use sides (Usually her Human and Demon) commonly distract her by trying to tell her what she should do and arguing with each other, she runs slower on 2 legs than on all four limbs.
Holy things: Can touch or come within a foot of anything Holy (like churches, crosses holy water etc.) if she passes that barrier and touches the item she will start to burn at the rate of a 3rd degree burn. (This weakness disappears when in human mode)
Fire and water: While in her half breed form if water gets on Miley she can't use her fire powers (Unless its hot water she finds water freezing to her.) Her human form can take the heat from fire but finds it more hard to focus and sometimes if she gets too hot she passes out.
Other weaknesses/disadvantages: She speaks no English, Half of the month she is her human self and the other half she is her half breed self(her weaknesses change)
Equipment:
N/A
===PSYCHOLOGICAL PROFILE===
Personality:
Half Breed:
She's Unable to trust others and seems to usually always be on guard ready to attack around others unless she knows them or they have shown to her that she can trust them or at least they won't hurt her. She usually seems curious of most things but won't exactly act on her curiosity based on what it is she is curious about. She also finds some things like cars slightly scary considering she has never seen things like this before. She also has a kind genital personality when you get to know her.
Human:
She unlike her Half Breed self can find the good in people and situations allowing her to trust people a little easier. Like her Half Breed self she commonly is curious about things but unlike her Half breed self she will act upon her curiosities almost always determining on what they are. She does find things like cars and such a bit scary but she will often investigate them even if they are moving but if they are coming at her she will most likely act like a deer in head lights and just stare at the car coming at her. She also has a goofy personality when you get to know her.
Full demon:
She never trusts anyone and most certainly doesn't waste time being scared of something or curious about it. Most of time she chooses violence to respond to things. If you survive long enough or some how managed to get to know her she has a violent, High and mighty, yet I'll help you but I'll make it look like I'm doing it for me type of personalities that usually only her friends get to see.
Strengths:
Making ice and fire, Acrobatics, Using her tail like a monkey would, Surviving on her own.
Interests/Habits:
Smoke comes out of her mouth and or nose sometimes whenever she gets really angry(only for her half breed self), When she blushes it usually is added with extreme temperature changes(extremely cold when human hot when Half Breed), She usually walks and runs on all fours like an animal and she also tends to sleep on the ground like one too, when in her human form she usually makes funny faces to show how shes feeling or to make a point. She is highly addicted to soda, when her other sides talk to her she tends to respond out loud.
===PERSONAL BACKGROUND===
Family Members:
Flerdocon(fl-ear-do-con) The king of Feecons(Fee-cons)(father) Melinda (last name unknown) (mother/location unknown)Yvrídio Kólasi Tis Fotiás/Charissa Fotiás (step sister)  ???? Fotiás (step mother)
Place of Origin:
A fire kingdom located in a volcano in the underworld (aka hell)
Current City:
Jump city
History:
Miley's father mated with a human hoping for a son that would become the most powerful Feecon ever known and become the new king/ruler of his kingdom. Her father was surprised to see that it was a female baby but decided a female leader would do just as well. Unlike most demons Miley's father didn't care whether she was a boy or girl but did care about the fact that Miley took after her mother and wasn't (usually) evil like him and refused to be evil like him.
Miley at 17 years old her father had enough of her not commuting to just being evil and her father locked her up in a dungeon but once the was able to focus enough in her human form she managed to free herself through her ice powers. Miley managed to escape to the upper world aka regular earth by using one of her fathers portals.
Feecon Fun facts:
-nearly impossible for Feecons to breed with humans (including half 4th etc. breeds)
-when bred with humans the off spring if half and half should become 100 times more powerful than the usual full Feecon
-Feecons (when born) gets a link to a human which means they look and sound exactly like the human when in human form
-full breed Feecons can look human and still keep their powers
-Half breeds are so uncommon that the Feecons don't know if they can be immortal like regular Feecons
-Usually when a half breed turns human their human emotions (love, hate, fear, etc.) are heightened while in their human forms
- Feecons puke lava and spit fire from their mouths when sneezing
- since Feecons are usually always in their demon forms that don't have certain human parts they don't wear clothes, they also don't wear clothes because they would just be burned off from their powers.