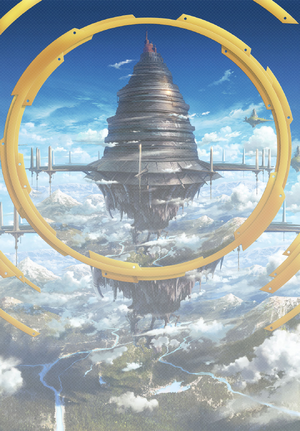 Welcome to Sword Art Online. The first day 10,000 people who were lucky enough to get a copy of the game signed in all around the world. Sword Art Online uses a helmet that you place over your head with a visor covering the eyes called the NerveGear. This equipment plugs the player into a virtual environment, similar to world of warcraft, but you yourself are in the game fully looking out of your own eyes inside your avatars body. In this world, unlike most MMO games you can only be human and you may only utilize blades and shields. No magic.
On the first day many practiced their sword art skills, which are special attacks activated by a sequence of movements and stances. These moves are created and personal to the user. When activated the users weapon will glow a certain color and then attack for more damage than that of a normal strike. There are also many skills to be learned, such as cooking, parrying/blocking attacks, running, hiding, animal taming, etc. that all compliment sword arts.
However, after testing out all these new things and experiencing the grand medevil layout of the game and it's terrains/forests. Many found an odd glitch or malfunction in the game. To log out you usually would access your main menu, which in like any game is done by activating it and then scrolling down and pressing log out. In SAO it's essentially the same, but a holographic screen appears in front of you with a variety of options. Including your items, which will digitally materialize your weapons, clothes, potions, food right in front of you. Your list of skills, quests, friends, guild/clan, etc. However, the logout button...was missing? 
All the players then found themselves teleported to the Starting City. Once there they were confronted by a huge god-like cloaked figure claiming to be the game's creator. The first act of business of this cloaked individual was to revert all avatars to look like the people that played them, revealing all the males pretending to be female players. The next act was to announce that everyone was stuck in this game until they finished it! This meant reaching level 100 and defeating the boss, dying before your reached that floor meant death, FOR REAL. Before the game began there were about 1000 players allowed to test the game, these were called the beta-players and were already experienced with the features of this MMO. They combined were only able to reach level 8 in a month! Now this person was saying that that ALL players had to reach level 100 and not die if they planned to go back to the real world. 2000 of which died the first day as the helmets were removed by family or outside forces.
After being told of the games intent, many of the players panicked, but the beta-players left immediately to gain experience and grow levels. A lot of players felt this was unfair, and therefore cheating. Thus, these players were dubbed "Beaters" and are shunned by normal players. After the first level was cleared, people began using teleport crystals (items) and teleporting gates on each level to go to and from different floors. Guilds, began to arise, the beaters not being trusted or liked by any became soloplayers (those who do things alone, no friends, no guilds) people started to improve skills and became chefs, blacksmiths, performers, etc. and the arrival of player killers became apparent. Player killers are those who have become so invested in the game, they turn EVIL and kill other players, even though they know killing them means they'll die for real!
Your body now in a hospital room in the real world after 3 months of being trapped in this game, while your mind/consciousness resides in the world of SAO. During that time you have gained a few skills and have accepted that you need to fight or help to survive. However, what path will you take? Are you a beater or are you a team player? Do you like to go it alone like the soloplayers or are you an infamous player killer!? What kind of weapon style do you use, if any at all, or do you prefer to help others by crafting potions, weapons, cooking, providing entertainment. No matter what you choose, make sure it's worth it, because there's a long road to floor 100 and there's no guarantee you'll make it.